In a video deposition shown to jurors Friday, the doctor of a teenager claiming he grew breasts after taking the antipsychotic drug Risperdal said that the boy suffered from severe developmental and behavioral problems, and that he was unaware of possible side effects when he prescribed the medication.
This is the only thing I can find that's current from the Philadelphia Trial – an introductory blurb from a subscription only site. It does, however, address a question that I've had about this particular case – "severe developmental and behavioral problems." The doctor says that he was unaware of the side effects. He started the Risperdal around 2000 when the patient was ~5 years old. At that time there was no pediatric approval for Risperdal. Here's what the Risperdal insert said then:

Later, in 2006, Risperdal was approved by the FDA for irritability associated with Autism. By that time, the package insert had been changed to:

and this had been added: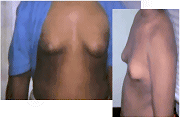 This patient's breast development began at age ~12. The picture on the left is a screen capture from a video made by the plaintiff's lawyer [I don't know for sure that it is this patient]. When one gets down to the actual patient level, this case becomes more complicated – which always happens in the world called real life. And looking at it from afar, from journal and newspaper articles just add to the confusion, because reports are written by people with opinions.
In Schizophrenia and Mania, antipsychotic medication is used to treat psychosis. And while behavior improves on the medication, it is presumed to be 2º to the absence of hallucinatory and delusional experience. Sedation and emotional blunting are generally seen as side effects. Using these medications in children is something else – the target is behavior itself. They are being used as agents of behavior control for disruptive kids. This is the group originally targeted by Janssen when they tried to enter the child and adolescent market [Double-Blind, Placebo-Controlled Study of Risperidone for the Treatment of Disruptive Behaviors in Children With Subaverage Intelligence].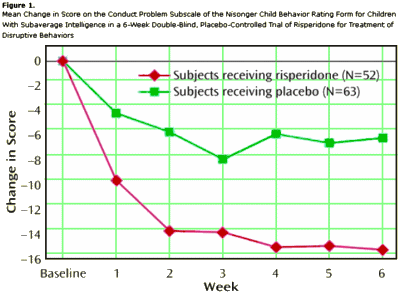 This was a group whose diagnosis was reframed as the Bipolar Child by Dr. Biederman when that same data was reanalyzed [Risperidone for the treatment of affective symptoms in children with disruptive behavior disorder: a post hoc analysis of data from a 6-week, multicenter, randomized, double-blind, parallel-arm study]. This was the reason that Risperdal was approved for irritability in Autism. And it's the reason for the various disruptive behavior diagnoses proposed for the DSM-5 Revision. The problem is that the medication often works as in the graph from Aman's article above. Behavior can be controlled or at least modified. Again, in the disruptive child, the antipsychotic is not treating an underlying disease eg Schizophrenic psychosis, it is behavior that's in the sights. A further complication – these conditions are often chronic, which means maintenance treatment, magnifying the prospect of adverse effects.
It's easy to polarize on an issue like this. One need only point to a tragic case like Rebecca Riley to see one end of the spectrum – a child that died from being un-necessarily overdosed with medication by bizarre parents [
in tears and despair…
]. On the other hand, there are stories like this [same reference]:
Many parents told 60 Minutes their children are so out of control and disruptive, medication is the only option. A parent who took her children to Biederman's Mass General clinic, Maria Lamb says she depends on medication for eight-year-old Annie and nine-year-old Casey, who his mother says would rage for hours when he was just two years old. Casey was recently admitted to a psychiatric hospital when he was taken off one of his medications. "I don't think they would be able to function. I wish they could. It was a last resort, seeing the kind of rages they would have, destroying their room, kicking the door off the hinges," Lamb says. But during one recent visit, Maria's worried that Annie is eating incessantly. Dr. Biederman's partner Dr. Janet Wozniak says it could be a side effect from one of Annie's three medications and suggests another medicine may help.
Most likely in 2000, this 5 year old boy was being treated based on behavioral symptoms – as former sales manager
Tone Jones
described in "a training memo from his top Sales Rep, Laura Haughn, that said:
'Child and Adolescent Psychiatrists', 'Provide with treatment under 13', 'Most diagnosed with behavior disorders or mood disorders', 'No indications!!!', 'Sell on symptoms not diagnosis'
. So it's no use to ask his doctor or his mother if they had known that there was something like a one in fifty chance he would develop gynecomastia, would they have used Risperdal anyway. In fact that's the whole point. Janssen may not have had that precise figure in 2000, but they knew Risperdal regularly elevated prolactin levels [chronically!]
ergo
gynocomastia was an expected possibility with long term use. Likewise, Janssen also went way out of their way to deny that obesity and diabetes were also real possibilities, even when warned by the FDA.
[reference]
The drug agency sent J&J a warning about its Risperdal marketing practices in 1999. It followed with a stronger warning after the company sent a letter on Nov. 10, 2003, to 700,000 doctors in the U.S. J&J wrote to tell the doctors that the FDA wanted all makers of so-called atypical antipsychotics, including J&J, Pfizer Inc., and Eli Lilly & Co., to warn in product labels of the risk of hyperglycemia and diabetes mellitus. J&J said research "suggests" that Risperdal "is not associated with an increased risk of diabetes" compared with an earlier class of antipsychotics. It also said evidence "suggests" Risperdal is "associated with a lower risk of diabetes than some other studied atypical antipsychotics."
With adverse effects, neither doctor, nor mother, nor for that matter, the patient himself, were in a position to give informed consent based on the state of knowledge at the time. As Alex Gorsky said:
[reference]
Q. And the subject line is "Competitive Activity"?
A. Yes, it is.
Q. And does this email concern Risperdal and competition from other antipsychotics?
A. Yes, it covers my thoughts around our clinical developments programs.
Q. If we turn to page two of the document, which is a continuation of your email, looking at the third bullet point where you say "While we cannot respond to each and every competitive jab… we should expect that we will be challenged on a number of fronts due to our market position… therefore we need to be proactive in expanding on our strengths [efficacy long and short term, agitation, weight gain, etc] and defending our weak spots [prolactin, QTc, EPS]"… Do you see – did I read that correctly?
A. Yes, you did read that correctly.
Janssen only saw these facts about their product as competative jabs, rather than as adverse effects that could and would occur in their best customers – long term users. There are situations where a child is so out of control that the parents and the clinician are willing to accept these risks. But legitimizing them by making up a disease like the Bipolar Child, or hiding the adverse effects as Janssen did, is not an acceptable way to deal with the problem. Physicians have to consider the risk/benefit equation in every corner of medicine – corticosteroids, immunosuppressives, anti-cancer drugs, toxic antibiotics, narcotics with chronic pain, etc. These situations are never routine. They call for limited usage, careful monitoring, and warnings.
The whole issue of behavior control using medications is loaded – having something of a Clockwork Orange, Thomas Szasz, One Flew Over the Cuckoo's Nest feel to it. The dilemma of parents of impaired children with extreme disruptive behavior problems are only really understood from the inside, and it's not easy for the physicians and others in the "helping professions" either. Who among us hasn't felt what Dr. Biederman expressed when interviewed on 60 Minutes?
"But the patients that come to me, and the families in tears and despair with these type of problems, I in good faith cannot tell them, 'Come back in ten years until we have all the data in hand.' I still need to use medicines that I am assuming that if they work in adults, with appropriate care and supervision, may also work in children."
We would all love to have a Risperdal that didn't have its side effect profile. Who wouldn't? But we don't have such a medication. What we do have are medications that have a significant downside, so there are real limitations on their use. The pharmaceutical industry actively told us that theirs was the wished-for drug, and worse, tried successfully to manipulate the practice of medicine by encouraging the wide use of these drugs by primary care physicians. Alex Gorsky's Janssen lead the way in this enterprise. Their market? The wretched of the earth – people with Schizophrenia, Manic Depressive Illness, Dementia, Autism, Mental Retardation, etc. [and their beleaguered caretakers]. They competed vigorously to hold onto that largely involuntary market by lying – betting that if a later punishment ever came, it wouldn't fit the crime. It must've worked because Wednesday, while the Philadelphia trial continues, Alex Gorsky, now Tsar of J&J, will be in my neck of the woods delivering a keynote address to life sciences business CEOs: