History is the sum total of things that could have been avoided …
Konrad Adenauer
A few years back, I heard Rosalyn Carter speak at a dinner. Her talk was organized around just one simple fact. "The largest mental hospital in America is the L.A. County Jail," she said. And I thought about Philippe Pinel and how the carousel of history seemed to have made it all the way back around. The mentally ill were back in jail:
What got me going on this history kick [on history 1 …, on history 2 …] was a recent drive through my old neighborhood in Atlanta near Emory University where I spent my adult life. Recalling Ms. Carter's talk was just part of a collage of memories. I'll try to be brief [ha!].
In the 19th century [1842], Georgia opened a State Hospital [State Lunatic, Idiot, and Epileptic Asylum] in its then capital of Milledgeville modeled on the principle "the institution as family." Central State, as it was known, followed the slowly declining trajectory of most of those facilities, and by the mid 20th century, it was an overcrowded warehouse, home to 12,000 mental patients. Flash forward to the 1960s. In 1965, the State of Georgia and Emory jointly opened the Georgia Mental Health Institute near the Emory campus on a donated estate [from a Coca Cola family]. It was built as a research and training facility – a jewel in the crown. The large central building was filled with offices, classrooms, a library, and research labs. The patients lived in eight cottages on the grounds. But Camelot was brief, and Governor Jimmy Carter took the hospital over to become a regional hospital in the early 1970s during the era of the Community Mental Health Movement. Emory continued to share the main building with State Mental Health, but the cottages became a public State Hospital. Half of my in-patient year was spent on Unit 5. Those dusty books I talked about [on history 1 …] were in the still lavish library upstairs. It's where I read about those waves of reform and Therapeutic Zeal turning downstream.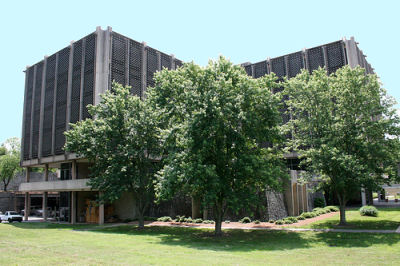 It was a great place to be a resident. After six frantic months at Atlanta's downtown Grady Hospital [something like a war zone], the pace and the place at GMHI gave me time to think about my patients and their profound psychiatric illnesses. Later, when I directed the Emory Residency Program, my departmental office was in the GMHI main building, but by then I could feel things fading. The library stopped repopulating itself and the periodicals were moved to Emory. The catchment area for the hospital grew and the length of stay shrunk and crossed the line into the impossibility known then as "the revolving door." I actually did a study [lots of graphs and stats] to show that the hospital's limit had long been passed, but the Superintendent wouldn't let me present it – something like data ownership. And so, I finally had to stop rotating residents and students through GMHI or letting them take call there. It was no longer a training facility, but the loss of the placement [and the residency stipends] put a huge strain on our already thinning budget. Our aging chairman who had masterminded and proudly cut the ribbon when GMHI opened in 1965 retired in the mid 1980s – not totally bitter [but more than he'd admit]. That opened a door and the revolution of the 1980s in psychiatry finally arrived in Atlanta. I left in the following year.
I didn't keep up with the timeline precisely after that, though I still lived nearby and frequently drove by or attended the odd conference in the auditorium. GMHI was closed as a hospital in the late 1990s. The main building is still used for continuing education classes, unrelated to matters mental. If you squint as you drive by, it looks almost like it did when I arrived, but not if you open your eyes. These are some contemporary pictures I found – the Unit out back where I was a resident on the left and the now empty main library where I spent so many hours on the right: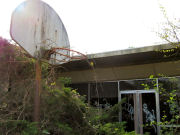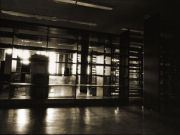 Central State Hospital in Milledgeville finally closed for good in 2010 [at age 166 years]. Some pictures, then and now: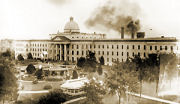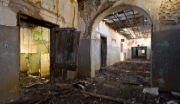 In spite of my opening quote, it is not my intent for this post to be a lament or even an indictment – more a condensed narrative. Of course, it was my own old days, good and bad, the days when I was learning what I wanted to know about [having belatedly figured out what that was], and also learning some truths that were hard to take. So there is a warm nostalgia mixed with days of disillusionment that can't be kept out of my words, but I'll save that editorial for a later installment. What I want to highlight right now is that this is a story about the waning days of no less than three major paradigms:
The first paradigm was the State Hospital system. "In the first decades of the 19th century there was a movement in several states to reform prisons, create public schools, and establish state-run hospitals for the mentally ill,"

Wikipedia

. It was an outgrowth of the reform movement [Pinel] transplanted to the new world, consistent with the ideals of the French and American Revolutions – "

moral treatment

" "

the institution as family

". A century later, the patients in what those hospitals became may have been better off than in the days of

Les Misérables

, but not by a lot. It was a paradigm well beyond its days and funding.

The second paradigm was long term, in-hospital, psychoanalytic or psychodynamic milieu treatment. GMHI was conceived as a place where selected referred patients would be studied intensively, finally doing the research on outcome and process that such therapies had always lacked. The units were staffed with experienced and talented psychiatrists and mental health professionals of every flavor; the place was swarming with trainees of all kinds; and there was actually a small golf course woven among the units [a few greens still visible in the winter grass in my day]. But before it really ever got off the ground, it was commandeered by Governor Carter who was and is [along with Rosalyn] a lifelong advocate for the chronically mentally ill. He is a practical man. That kind of treatment had met its Waterloo, at least in Georgia, at least on the public nickel, but it was in trouble elsewhere as well.

The final paradigm was the Community Mental Health Movement. Unlike the more radical earlier biological treatments, the antipsychotics presented the possibility of downsizing the overcrowded and badly underfunded State facilities. Realizing that this was going to be a cataclysmic transition, the federal government passed a generous Community Mental Health Act to assist the States. It was a double edged sword in that it really helped, but also may have supercharged the transition beyond its possibilities. Whatever the case, by the time I came along, the political climate had changed; the federal well-spring had dried up; and the existing systems were becoming overwhelmed. The dream for strong community mental health care and resources with adequate back up hospitalization was sliding into the sea, taking GMHI along with it.
Also embedded in this narrative is a prequel of what was coming up ahead. You might think this is what I'm referring to:
"That opened a door and the revolution of the 1980s in psychiatry finally arrived in Atlanta."
Certainly the coming of the DSM-III revolution had everything in the world to do with what followed. That was its intent. But if that were all there had been, I doubt that I'd be writing this blog. Many of the things that revolution changed needed some changing. In other ways, it was naive, but so were the Declaration of Independence and the Communist Manifesto. You have to start something new without knowing what you need to know to make it right. So naive documents can be doomed from the start, or become a seed that grows into a flower, or anything in between. No, this next quote is the part that looks like a prequel to me in retrospect. It sort of looked that way back then, but I didn't know why, or where it would go. And in those days, I only saw my immediate surround with little awareness that it was a more global harbinger of things to come:
"I finally had to stop rotating residents and students through GMHI or letting them take call there. It was no longer a training facility, but the loss of the placement [and the residency stipends] put a huge strain on our already thinning budget."
That's enough for now…