Of late, I find myself drawn to how things play out over time in the world of PHARMA. In the January Journal of the American Academy of Child and Adolescent Psychiatry [JAACAP], I ran across some letters about the N.I.M.H. Treatment of Early Age Mania [TEAM] Study which ran from 2003-2008. It compared Risperidone [Risperdal®], Lithium, and Valproate [Depakote®] in the treatment of Childhood Mania, and I found myself chasing things backwards in time.
I had really never heard of Childhood Mania or Childhood Bipolar Disorder until around the time I retired in 2003. There was a reason for that:
CONTEXT: Although bipolar disorder may have its onset during childhood, little is known about national trends in the diagnosis and management of bipolar disorder in young people,

OBJECTIVES:To present national trends in outpatient visits with a diagnosis of bipolar disorder and to compare the treatment provided to youth and adults during those visits…

RESULTS: The estimated annual number of youth office-based visits with a diagnosis of bipolar disorder increased from 25 [1994-1995] to 1003 [2002-2003] visits per 100,000 population, and adult visits with a diagnosis of bipolar disorder increased from 905 to 1679 visits per 100,000 population during this period. In 1999 to 2003, most youth bipolar disorder visits were by males [66.5%], whereas most adult bipolar disorder visits were by females [67.6%]; youth were more likely than adults to receive a comorbid diagnosis of attention-deficit/hyperactivity disorder [32.2% vs 3.0%, respectively; P < .001]; and most youth [90.6%] and adults [86.4%] received a psychotropic medication during bipolar disorder visits, with comparable rates of mood stabilizers, antipsychotics, and antidepressants prescribed for both age groups.

CONCLUSIONS: There has been a recent rapid increase in the diagnosis of youth bipolar disorder in office-based medical settings. This increase highlights a need for clinical epidemiological reliability studies to determine the accuracy of clinical diagnoses of child and adolescent bipolar disorder in community practice.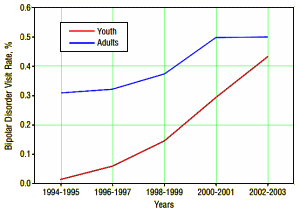 It hardly existed
. How it came into being is a long and winding road that took some digging to unravel. Here's the briefest of timelines from
my post
several years ago [with a few links]:
Janssen's Risperdal was approved by the FDA in 1993, Lilly's Zyprexa in 1996.

At some point around 1995, Janssen asked Dr. Biederman to submit a request to study Risperdal in children. He submitted it and was turned down.

In 1999, Biederman and Janssen had a

contentious relationship

. Yet that same year, Biederman's group published a positive retrospective study of Risperdal in the treatment of childhood mania.

In 2001 Biederman published a positive

trial of Zyprexa

in bipolar kids supported by Lilly.

In 2002, Biederman published a inconclusive

study of Depakote

in bipolar kids sopported by Abbott.

In 2002, Janssen funded Biederman's

J&J Center for the Study of Pediatric Psychopathology

and Biederman became an author of record on the 1998 Janssen trial for a ghost-wriiten AACAP presentation

,

later

publishing that study

again in 2006.



After Janssen introduced Risperdal, in 1993, the first atypical antipsychotic, they wanted to get it approved for the management of out-of-control retarded children so they formed the
Risperidone

Disruptive

Behavior

Study

Group
. It's easy to see why. Antipsychotics can be used as a behavior control drug, but that was frowned on because of the side effects and the potential for Tardive Dyskinesia. In those salad days, the hope was that the new atypical antipsychotics would not have those side effects or long term consequences. As they say, "hope springs eternal." Janssen did a clinical trial and submitted those findings to the FDA, who turned them down because there was no disorder specificity and a concern about side effects. In the mid and late 1990's, Dr. Biederman whose focus had been on ADD began to look at disruptive, out-of-control kids and concluded that it might represent childhood bipolar illness. There was a huge overlap with the diagnosis of ADD. Others began to look at these kids in the same way. He and Janssen hooked up and he signed on to a rewrite of Janssen's old disruptive behavior study as a Risperdal for affective symptoms study [ghost written] that was presented at the
American Academy of Child and Adolescent Psychiatry
meetings and later published. Janssen funded a center for Dr. Biederman and the body of child and adolescent psychiatry jumped on board. The Bipolar Child was born: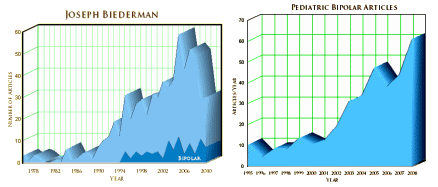 While this narrative may seem like a cynical version, I actually think I've probably soft-pedaled it in summary. Put Biederman in the search engine of this blog and read the documentation and the links to see for yourself. It was a "fad" even "the rage" – and in my mind, it was people looking for an excuse to use atypical antipsychotics to control the behavior of disruptive kids. And there are plenty of disruptive kids, and they can be a big problem, no question about it. The idea that they have Bipolar Disorder and atypical antipsychotics are a treatment spread like wildfire, particularly in the world of semi-institutionalized children [eg foster care, treatment facilities, the courts, etc.].
This was the era of [acronymed] NIMH funded clinical trials, and Treatment of Early Age Mania [TEAM] was a natural. It was conducted in five academic centers from 2003 to 2008, funded by a number of NIMH grants. As you can see, the study spanned the hey-day of the Bipolar Child diagnosis. Last year, the results were published. That's what those letters I ran across are about:
Lithium, or Divalproex Sodium for Initial Treatment of Bipolar I Disorder, Manic or Mixed Phase, in Children and Adolescents by Barbara Geller, MD; Joan L. Luby, MD; Paramjit Joshi, MD; Karen Dineen Wagner, MD, PhD; Graham Emslie, MD; John T. Walkup, MD; David A. Axelson, MD; Kristine Bolhofner, BS; Adelaide Robb, MD; Dwight V. Wolf, MD; Mark A. Riddle, MD; Boris Birmaher, MD; Nasima Nusrat, MD; Neal D. Ryan, MD; Benedetto Vitiello, MD; Rebecca Tillman, MS; and Philip Lavori, PhD Archives of General Psychiatry

. 2012 69:515-528.

Context: There was a paucity of comparative pharmacological research for initial treatment of bipolar I disorder, manic or mixed phase, in children and adolescents.

Objective: To investigate which medication to administer first to antimanic medication–naive subjects

Design, Setting, and Participants: The Treatment of Early Age Mania [TEAM] study recruited 6- to 15- year-old children and adolescents with DSM-IV bipolar I disorder [manic or mixed phase] at 5US sites from 2003 to 2008 into a controlled, randomized, no-patientchoice, 8-week protocol. Blinded, independent evaluators conducted all baseline and end-point assessments

Interventions: Subjects received a titrated schedule of lithium, divalproex sodium, or risperidone. Medications were increased weekly only if there was inadequate response, and no dose-limiting adverse effects, to maximum doses of lithium carbonate [1.1-1.3 mEq/L], divalproex sodium [111-125 μg/mL], and risperidone [4-6 mg.

Main Outcome Measures: Primary outcome measures were the Clinical Global Impressions for Bipolar Illness Improvement–Mania and the Modified Side Effects Form for Children and Adolescents.

Results: There were 279 antimanic medication–naive subjects [mean [SD] age, 10.1 [2.8] years; 50.2% female] who had the following characteristics: 100% elated mood and/or grandiosity, 77.1% psychosis, 97.5% mixed mania, 99.3% daily rapid cycling, and mean [SD] mania duration of 4.9 [2.5] years. The mean [SD] titrated lithium level was 1.09 [0.34] mEq/L, and the mean [SD] divalproex sodium level was 113.6 [23.0] μg/mL. The mean [SD] titrated risperidone dose was 2.57 [1.21] mg. Higher response rates occurred with risperidone vs lithium [68.5% vs 35.6%; 2 1=16.9, P<.001] and vs divalproex sodium [68.5% vs 24.0%; 2 1=28.3, P<.001]. Response to lithium vs divalproex sodium did not differ. The discontinuation rate was higher for lithium than for risperidone [2 1=6.4, P= <.011]. Increased weight gain, body mass index, and prolactin level occurred with risperidone vs lithium [F1,212=45.5, P<.001; F1,212=39.1, P<.001; and F1,213=191.4, P<.001, respectively] and vs divalproex sodium [F1,212=34.7, <P.001; F1,212=45.3, P<.001; and F1,213=209.4, P<.001, respectively]. The thyrotropin level increased in subjects taking lithium [t62=11.3, P<.001].

Conclusions: Risperidone was more efficacious than lithium or divalproex sodium for the initial treatment of childhood mania but had potentially serious metabolic effects.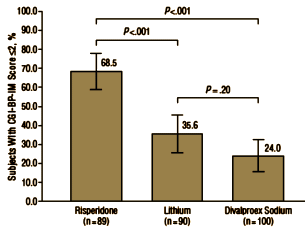 Treatment Moderators and Predictors of Outcome in the Treatment of Early Age Mania [TEAM] Study Benedetto Vitiello, M.D., Mark A. Riddle, M.D., Gayane Yenokyan, Ph.D., David A. Axelson, M.D., Karen D. Wagner, M.D., Ph.D., Paramjit Joshi, M.D., John T. Walkup, M.D., Joan Luby, M.D., Boris Birmaher, M.D., Neal D. Ryan, M.D., Graham Emslie, M.D., Adelaide Robb, M.D., and Rebecca Tillman, M.S. Journal of the American Academy Child and Adolescent Psychiatry.

2012 51: 867–878.

Objective: Both the diagnosis and treatment of bipolar disorder in youth remain the subject of debate. In the Treatment of Early Age Mania [TEAM] study, risperidone was more effective than lithium or divalproex in children diagnosed with bipolar mania and highly comorbid with attention-deficit/hyperactivity disorder [ADHD]. We searched for treatment moderators and predictors of outcome.

Method: TEAM was a multi-site, 8-week, randomized clinical trial of risperidone, lithium, or divalproex in 279 medication-naïve patients, aged 6 through 15 years, with a DSM-IV diagnosis of bipolar disorder currently in manic or mixed phase. Outcome measures included binary end-of-treatment responder status and change in the Kiddie Schedule for Affective Disorders and Schizophrenia [K-SADS] Mania Rating Scale [KMRS]. Baseline demographics and clinical characteristics were tested as modifiers of treatment effect and as overall predictors of outcome.

Results: Moderator effects were detected for site, ADHD, and obesity. Across sites, the response ratio [RR] for risperidone versus lithium ranged from 1.2 [95% confidence interval [CI] 0.8-1.7] to 8.3 [95% CI 1.1-60.8], and for risperidone versus divalproex from 1.3 [95% CI 0.8-2.2] to 10.5 [95% CI 1.4-77.7]. The RR for risperidone versus lithium was 2.1 for patients with ADHD, but 1.0 for those without ADHD, and 2.3 [95% CI 1.6-3.3] for nonobese patients, but 1.1 [95% CI 0.6-2.0] for obese ones. Older age and less severe ADHD symptoms were associated with greater improvement on the KMRS.

Conclusions: Risperidone was more effective than lithium or divalproex across the demographics and clinical characteristics of the sample, but the magnitude of its effect was influenced by site-related characteristics and presence of ADHD.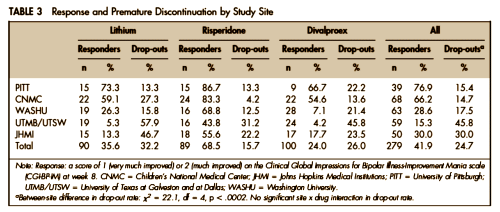 This Treatment of Early Age Mania [TEAM] study was done during the era when the Bipolar Child diagnosis was quite the thing. I chose the "National Trends…" study at the top because it was one of several studies [2007] where people were finally wanting to take a hard look at this runaway diagnosis. Another landmark was the U.S. Senate investigation of academic psychiatrists making a lot of unreported money from drug companies and Dr. Joseph Biederman was on the list. Instead of the wave of the future, the Bipolar Child diagnosis quickly became widely questioned and turned into the problem of overmedicating children. So the TEAM study was reported in a very different time from that of its inception.
The first report shows that these children respond better to Risperdal® than either Lithium or Depakote®. That's no surprise. They don't respond to the traditional anti-manic treatments [that suggests to me that they don't have mania]. They do respond to Risperdal®. That's something we knew before we ever heard of Risperdal® – you can control disruptive behavior with antipsychotic medications. It also showed that the metabolic side effects of Risperdal® were already apparent at only 8 weeks. Notice that there's no placebo group in this study so we can't really say that the Lithium or Depakote® responses were clinically significant.
The second report set out to define moderators of response. What it ended up showing was the extremely high overlap between ADHD and the presumed Bipolar Mania and the more ADHD, the greater the likelihood of a response. But there was another moderator of response – site. What in the hell does that mean? To me it suggests that there is bias in making this diagnosis or in measuring the response. I think that says something about the study and the diagnosis, not the afflicted. So in my reading, one thing it doesn't mean is that Bipolar Disorder has some intrinsic regional difference.
---
If you've made it this far, you already know that I think that the overwhelming majority of these kids do not have Manic Depressive Illness, which I consider to be as Kraepelin described it long ago – a periodic illness characterized by aberrant mood regulation that is familial, probably biologic, and is usually apparent in young adults – coming on a bit later than Schizophrenia. I've never seen classic mania in a child personally. And while I'm not a Child Psychiatrist, I've been around and seen a lot.
So here's a narrative of this story that will be told in the future. Back in 1993, Janssen had a new antipsychotic they thought would get us around all the problems we had with the first generation neuroleptics. They were a major breakthrough for treating acute psychosis, but were very problematic for long term use – potentially causing irreversible neurological problems. Risperdal® was going to change all of that. I had the same hope about that as everyone else – not for out-of-control kids, but for the treatment of chronic Schizophrenia. Janssen was particularly hopeful because it was a goldmine. And they set out to market Risperdal® for all those things that the antipsychotics might treat if they weren't so toxic. One of those things was disruptive impaired children of many different flavors. So they formed the aptly named Risperidone Disruptive Behavior Study Group. Risperdal® worked, but by 1998 when they submitted the study, the toxicity [the metabolic syndrome] of Risperdal® was beginning to be more widely known. In addition, the FDA was wary of approving a drug for behavior. It smelled like bad science fiction – behavior control – and the FDA wisely said, "No thanks."
Along came Dr. Biederman, an ambitious and productive ADHD researcher at Harvard. He saw these disruptive and out-of-control kids, and noticed a similarity with manic adult patients. Over time, he became convinced that they were Bipolar, though he had to radically redefine the syndrome to make it work:
… The symptomatic overlap and co-occurrence of mania with ADHD has produced debate as to whether these children have ADHD, mania, or both. Despite this debate, many clinicians recognize that a substantial minority of children suffer from an extraordinarily severe form of psychopathology associated with extreme irritability, violence, and incapacitation that is highly suggestive of mania. Clarifying the diagnoses of these very ill children would have substantial clinical implications.

The emerging literature indicates that mania can be identified in a substantial number of referred children using systematic assessment methodology. Thus, this disorder may not be as rare as previously considered. Children with mania frequently demonstrate an atypical picture by adult standards, with a chronic course, severely irritable mood, and a mixed picture with depressive and manic symptoms co-occurring. Most children with childhood-onset mania may also have ADHD, which requires additional treatment. Initial clinical evidence suggests that atypical neuroleptics may play a unique therapeutic role in the management of such youth. The high levels of comorbidity with other disorders is common, further requiring the cautious use of a combined pharmacotherapy approach. More research is needed to build a scientific foundation for the notion that pediatric mania is a unique developmental subtype of bipolar disorder.
I suppose it was inevitable that Janssen and Biederman would connect. They funded him a Center, and he signed on to their old study re-[ghost]-written by Excerpta Medica and by proxy to their now revived marketing plan. Who needed FDA approval? The Bipolar Child was everywhere:

A Child and Adolescent Psychiatry community eager to "medicalize" rose to the occasion and enthusiastically embraced the diagnosis [and its treatment with atypical antipsychotics]. There were NIMH studies to be done like the
Course and Outcome of Bipolar Illness in Youth
[
COBY
]
and
Treatment of Early Age Mania [TEAM]. So now we read the results of these expensive studies about this now largely discredited diagnosis, and even about the DSM-5 Task Force creating a whole new disorder,
Disruptive Mood Dysregulation Disorder
[
DMDD
]
, specifically introduced to stem the tide of the Bipolar Child diagnosis and the resultant rampant overmedication of children.

This is a loud example of what allowing the pharmaceutical industry to buy it's way in to academic psychiatry can do. Something that began as the gleam in the eye of a pharmaceutical marketing department grew into an epidemic that has become a public health problem – not because of disease, but because of a diagnosis and a treatment. And one of the expensive NIMH studies that was undertaken to validate that disease is finally published, already an anachronism, that tells us something we already knew when I finished my residency in 1977 – you can suppress disruptive behavior in out-of-control kids with antipsychotics, but they pay an enormous price, particularly if used long term. And as for the Bipolar Child diagnosis after its moment on the stage, it's something even the American Psychiatric Association [APA] is trying to eliminate. That says a whole lot…
And then there's this, the only non-loser in the story: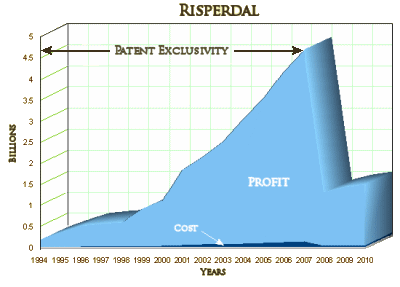 It worked…