Sometimes a piece of data comes along that's interesting no matter what it means – something to ponder. This is the US geographic distribution of psychotropic drug use: stimulants, antidepressants, and antipsychotics. It's from a Yale study using a national prescription database by zip code showing wide geographic variations in the prescription rate of psychotropic medications [maps on the left]. The maps on the right show "clusters" of heavy use identified by mathematics extraordinaire:
This paper analyzes local and regional geographic variability in the use of antidepressant, antipsychotic and stimulant medications in the United States. Using a data set that covers 60% of prescriptions written in the United States, we find that use of antidepressants in three digit postal codes ranged from less than 1% of residents to more than 40% residents. Stimulant and antipsychotic use exhibited similar levels of local geographic variability. A Kulldorf Spatial Scan identified clusters of elevated use of antidepressants [RR 1.46; p<0.001], antipsychotics [RR 1.42; p<0.001], and stimulants [RR 1.77; p<0.001]. Using a multilevel model, we find that access to health care, insurance coverage and pharmaceutical marketing efforts explain much of the geographic variation in use.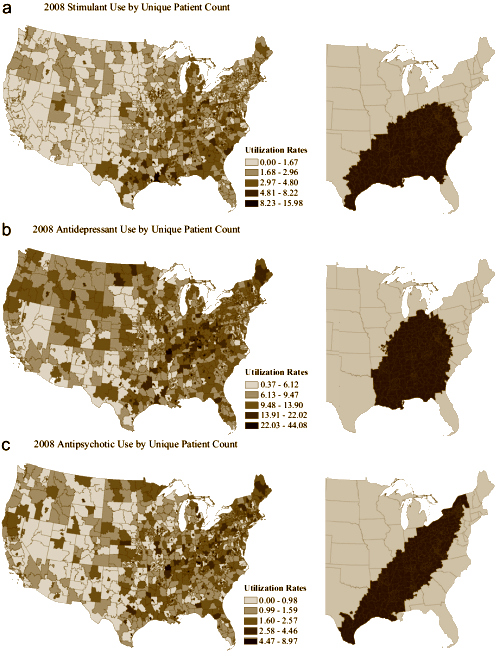 There are a couple of articles in the New Haven Register and the Yale Daily News that discuss their findings and the correlations they could identify. Only the stimulant use correlated with the distribution of treated disorder [ADD]. The authors focused on the pharmaceutical company's efforts in trying to unravel the meaning of this distribution and found some interesting correlations.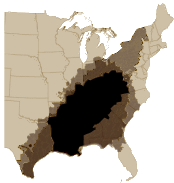 When I looked at those maps, I thought something else – more about the people in those areas than about external explanations. I superimposed the "clusters," and thought it even more strongly. The very dark spot which is common to all three clusters is very familiar – it's the world of the Southern Appalachians, where our people are from and we've spent our lives. It's a culturally distinct place. So my comments are biased from the start because I was looking at my known world and wondering why it was an epicenter for the use of psychoactive medications. I wouldn't have thought that last week, but there it is in bas relief.
I thought of one of my favorite maps – one I ran across a few years back looking at the 2008 election returns. It's a US ethnicity map that shows what people say their ethnicity is on a census form – the predominant ethnicity by county [click the map for the original to see the legend]: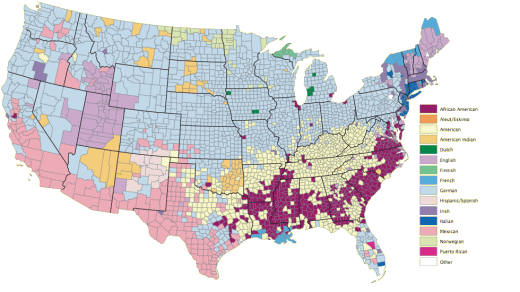 For my purposes, there are two groups of interest: African-Americans and Americans [light yellow]. The people who put American on the census aren't just being patriotic, they don't know where their ancestors came from. They're descended from the waves of early Caucasian immigrants who fled to the US, then fled the colonies, and settled in the Appalachian mountains and along the southern frontier. They then proceeded to intermarry. They see themselves as Americans because there's nothing else to see themselves as. They are patriotic [in a regional sort of way] for obvious reasons and the racial divide is by color, not country of origin. Like the African-Americans, Americans trace their family histories here in this country. So I was obviously wondering why this group was such a mark for medication. Then I thought of another map to look for. I wondered how the psychotropic drug use correlated with alcohol abuse [red is high, blue is low]: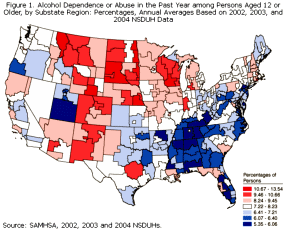 Not bad. Now I could take off on a tangent making up stories about why the denizens of the southern and appalachian wild might have an inverse relationship between psychotropic drug use and alcohol abuse, but I'm too scientific to let such thoughts run too wild – at least in public. By the way, that blue part on the last map fits the "Bible Belt" too. That's another place to let the imagination soar. And for that matter, there's plenty of poverty in those same parts. So much to speculate about when you're an old man with a good Internet connection.
Whatever the case, like I said, "Sometimes a piece of data comes along that's interesting no matter what it means – something to ponder."
Hat tip to Margaret Solton: University Diaries: