[This is tedious, but somebody has to do it]. Back in March, Speilmans et al published a meta-analysis of the studies Augmenting Antidepressants with Atypical Antipsychotics in cases of inadequate response [Adjunctive Atypical Antipsychotic Treatment for Major Depressive Disorder: A Meta-Analysis of Depression, Quality of Life, and Safety Outcomes]. I spent some time on that meta-analysis [and…, the usual suspects…] because the whole idea makes so little sense to me. Why should an Antipsychotic have much to do with depression? What does Augmentation mean anyway? Having looked recently at the studies using Seroquel XR® as monotherapy in Major Depressive Disorder and concluding that I thought whatever effect it had on depression was due to improved sleep [seroquel: good to the last drop…, rest my case…, another thing…] I made a note to myself to look at those augmentation studies again with the same question in mind.
And there it was, another AstraZeneca funded, AstraZeneca written paper on the pooled data from their two six week studies using Seroquel XR in patients with MDD who hadn't responded to antidepressants:
by Bauer M, El-Khalili N, Datto C, Szamosi J, and Eriksson H

Journal of Affective Disorders. 2010 127[1-3]:19-30.

BACKGROUND: Two positive studies evaluated adjunctive extended release quetiapine fumarate (quetiapine XR) in patients with major depressive disorder (MDD) showing inadequate response to antidepressant treatment. This preplanned, pooled analysis provides an opportunity for subgroup analyses investigating the influence of demographic and disease-related factors on observed responses. Additional post hoc analyses examined the efficacy of quetiapine XR against specific depressive symptoms including sleep.

METHODS: Data were analysed from two 6-week, multicentre, double-blind, randomised, placebo-controlled studies, prospectively designed to be pooled. Patients received once-daily quetiapineXR 150mg/day (n=309), 300mg/day (n=307) or placebo (n=303) adjunctive to ongoing antidepressant therapy. The primary endpoint was change from randomisation to Week 6 in MADRS total score. Other assessments included MADRS response (≥50% decrease in total score) and remission (total score≤8), change from randomisation in HAM-D, HAM-A, PSQI global and CGI-S scores.

RESULTS: Quetiapine XR (150 and 300mg/day) reduced MADRS total scores vs placebo at every assessment including Week 6 (-14.5, -14.8, -12.0; p<0.001 each dose) and Week 1 (-7.8,-7.3,-5.1; p<0.001 each dose). For quetiapineXR 150 and 300mg/day and placebo, respectively at Week 6: MADRS response 53.7% (p=0.063), 58.3% (p<0.01) and 46.2%; MADRS remission 35.6% (p<0.01), 36.5% (p<0.001) and 24.1%. QuetiapineXR 150 and 300mg/day significantly improved HAM-D, HAM-A, PSQI and CGI-S scores at Week 6 vs placebo. Quetiapine XR demonstrated broad efficacy, independent of factors including concomitant antidepressant.

CONCLUSIONS: Adjunctive quetiapine XR is effective in patients with MDD and an inadequate response to antidepressant therapy, with improvement in depressive symptoms seen as early as Week 1.


[recolored and reformatted for clarity]
Well, first off, this graph looks identical to the ones for monotherapy reported earlier [
rest my case…
] – a rapid response with a 3 point difference. The numbers even look the same. Could these results be like the others – likely to be explained by the sedative properties of Seroquel XR alone? The studies authors proposed to address that question with this factor analysis of the results – shown @ 1 week and @ 6 weeks: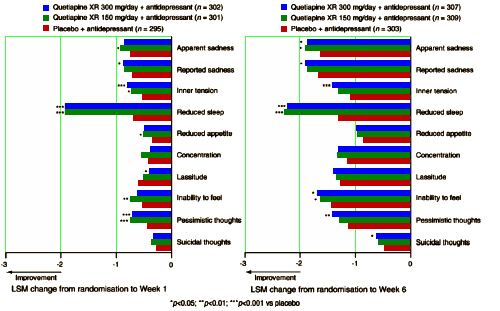 [recolored and reformatted for clarity]
Well the improvement in sleep is certainly impressive, particularly at one week [left]. In the body of the paper they seem to be attempting to head off the argument that their results might be explained as simply due to the sedative properties of Seroquel XR®:
…The early improvement seen with quetiapine XR in the current study may appear to be in part due to a beneficial effect on sleep since among the individual MADRS items, the greatest magnitude of improvement at Weeks 1 and 6 was observed in Item 4 (reduced sleep). Quetiapine XR was also associated with significant improvement in PSQI global score, MADRS Item 4 (reduced sleep) and HAM-D sleep disturbance factor scores at Week 6. However, it is of interest to note that the results from the post hoc analysis to determine whether treatment effects on sleep were independent of effects on the primary endpoint relationship between sleep and efficacy showed a significant overall improvement in MADRS total score at Week 6. This demonstrates the broad effects of quetiapine XR across a range of symptoms of depression which occur independently of its effect on sleep. Beyond improvements in sleep quetiapine XR also improved other MADRS items at Week 1.

Significant improvements in MADRS total score were seen in patients, irrespective of whether or not they experienced an AE potentially related to somnolence, suggesting that any concomitant sedative effects do not interfere with the antidepressant effect of quetiapine XR. This observation further supports our finding that quetiapine XR antidepressant properties are independent of treatment effects on the core symptom of reduced sleep in patients with MDD.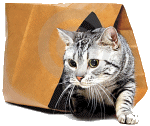 The highlighted parts are intended to convince us that Seroquel XR® has antidepressant properties independent of its sedative properties. Needless to say, I was not so moved [in fact, even rereading it to see if I was missing something made me sleepy]. AstraZenecal has let the cat out of the bag with these studies because when I look at this data, I see SLEEPING PILL, and that's about all I see…