The life of a Key Opinion Leader can be hectic at times, and Dr. Madhukar Trivedi has certainly been busy of late. At the end of March, he was hawking Viibryd® for Forest Laboratories in a syndicated newspaper article in small papers all over the country [
Viibryd® – coming to a hamlet near you…
]. In April, he published yet another STAR*D article in the American Journal of Psychiatry [
beyond my understanding…
] and in May, he was a spokesperson for Vortioxetine, a new antidepressant introduced by Lundbeck at the APA Meeting [
way past time
] and the AstraZeneca article below came out. Then in June, the STAR*D piece appeared in the print version of the AJP as the cover article [
objectively…
]. Busy busy busy…
by Trivedi MH, Bandelow B, Demyttenaere K, Papakosts GI, Szamosi J, Earley W, and Eriksson H.

International Journal of Neuropsychopharmacology. 2013 14:1-12.

Effects of once-daily extended-release quetiapine fumarate [quetiapine XR] monotherapy on sleep quality and disturbance in patients with major depressive disorder [MDD] were evaluated. Pooled data from four 6- or 8-wk placebo-controlled quetiapine XR [50-300 mg/d] monotherapy studies [StudyD1448C00001; D1448C00002; D1448C00003; D1448C00004] were analysed. Primary efficacy end-point was change from randomization in Montgomery Åsberg Depression Rating Scale [MADRS] score. Post hoc analyses of secondary end-points were conducted for change from randomization in: MADRS item 4 [reduced sleep]; Hamilton Rating Scale for Depression [HAMD] items 4 [insomnia-early], 5 [insomnia-middle], 6 [insomnia-late] and sleep disturbance factor [items 4 + 5+6] scores; Pittsburgh Sleep Quality Index [PSQI] global scores. MADRS total score change was also evaluated in patients experiencing high and low baseline sleep disturbance [HAMD sleep disturbance factor scores >4 and <4, respectively]. In total, 1808 patients were randomized to quetiapine XR or placebo across four studies. At last assessment, quetiapine XR reduced MADRS item 4, HAMD items 4, 5 and 6, HAMD sleep disturbance factor score and PSQI global scores from baseline vs. placebo [p < 0.001]. For those experiencing high sleep disturbance [n = 865, quetiapine XR; n = 514, placebo], quetiapine XR improved MADRS total score vs. placebo at all visits [p < 0.001]. For those with low sleep disturbance [n = 252, quetiapine XR; n = 121, placebo], quetiapine XR improved MADRS total score vs. placebo at weeks 2 [p < 0.001], 4 and 6 [both p < 0.05]. In conclusion, quetiapine XR [50-300 mg/d] monotherapy improved symptoms of sleep disturbance vs. placebo in patients with MDD, including those with either high or low baseline sleep disturbance levels.
Let's get the standard KOL stuff out of the way first. This is an reanalysis of four AstraZeneca Trials with three AstraZeneca employees as authors, funded by AstraZeneca, who paid writer Jocelyn Woodcock of Complete Medical Communications to write it. And since I doubt you read that abstract, let me summarize it quickly: Quetiapine XR [Seroquel XR®] is a sleeping pill just like regular Quetiapine [Seroquel®] was a sleeping pill [whether you're having trouble with sleep or not].
I know that my reviews of these lightweight, experimercials are boring, boring, boring. I persevere undeterred because we slept through the 1990s and most of the 2000s and let this kind of thing happen. Now here we sit in the 2010s, and my contention is that we shouldn't let a little thing like terminal boredom stand between us and cleaning up this mess – and it is an unholy mess. This is an article about the pooled results from four studies AstraZeneca did on Seroquel XR® in MDD six or so years ago – the Moonstone Study Group. Here's a summary of those four earlier studies:

They were all published [though the failed study, D1448C00004, was buried in an abstract and not indexed in PubMed]. I could access two of the others and they were both written by Complete Medical Communications. The authors were people from the various clinical research centers or AstraZeneca employees. This was hardly the extent of AstraZeneca's Seroquel XR® in MDD effort. They got it FDA approved as an adjunctive therapy in MDD. This Moonstone Group effort was their shot at getting it approved as a monotherapy [which didn't fly]. After just-plain Seroquel® went off patent, AstraZeneca flooded us with ads about Seroquel XR® as an adjunct in MDD. And now we have three latter-day articles generated from pooled results of these Moonstone papers:
Weisler RH, Montgomery SA, Earley W, Szamosi J, Lazarus A.

International Clinical Psychopharmacology. 2012 27[1]:27-39.

Thase ME, Montgomery S, Papakostas GI, Bauer M, Trivedi MH, Svedsäter H, Locklear JC, Gustafsson U, Datto C, Eriksson H.

International Clinical Psychopharmacology. 2013 28[3]:113-20.

Trivedi MH, Bandelow B, Demyttenaere K, Papakosts GI, Szamosi J, Earley W, Eriksson H.

International Journal of Neuropsychopharmacology. 2013 14:1-12.
As you might guess, all three were funded by AstraZeneca and written by Complete Medical Communications [though they did use several different Complete Medical Communications authors]. The AstraZeneca full time employees are in red [ProPublica positive in blue]. I can find no evidence that either Dr. Thase or Dr. Trevidi were in any way involved in the original four studies. Dr. Weisler was listed as author and later described as Principle Investigator of Study D1448C00001, but I can't confirm that from the paper or on clinicaltrials.gov. None of the original studies have posted results on clinicaltrials.gov. My assumption is that in these last three articles, Drs. Weisler, Thase, and Trivedi were what has been called "guest authors" – uninvolved KOLs who sign on to PHARMA generated articles to legitimize them as "academic." As you also might guess, the scientific value of all three of the "pooled papers" is zip, adding nothing of value to the papers already published.
Dr. Madhukar Trivedi is a full Professor holding an endowed chair in Psychiatry at UT Southwestern in Dallas; he's the Principal Investigator on a large NIMH Grant [EMBARC]; and yet he's still signing on as a guest author to these industry funded ghost written experimercials that he really had nothing to do with. Even the STAR*D article was written by their long-time ghost-writer Jon Kilner, a Science Fiction author. Dr. Trivedi is clearly using his academic position for personal gain as a guest author and paid speaker in the PHARMA trade. When these things have been reported to his Department Chairman, Dr. Carol Tamminga, she tells us that he's operating within the rules. I expect that the Department is getting something out of this one way or another.
And as for AstraZeneca and Seroquel® and Seroquel XR®, it's the one that got me going on this whole pharmaceutical mess in the first place. When I started volunteering, I saw all these patients who were on Seroquel – kids and adults. It was an Atypical Antipsychotic, but the patients didn't have psychotic illnesses. I started looking into it initially because I thought I was behind on some kind of new medical finding – thinking that there was some reason this drug was so widely prescribed. There was a reason all right – marketing: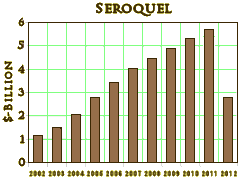 I did a series [starts with seroquel I: introduction to an "atypical"…] and then another [starts with selling seroquel I: background…] a couple of years ago and I've never gotten over it. I doubt I ever will. AstraZeneca has squeezed every dollar out of a drug that's a weak sister as an antipsychotic, riddled with sneaky dangerous side effects, and has a beguiling capacity to make people sleep. When it finally went off-patent, they had timed Seroquel XR® to keep them in the game. There was some medical finance magazine cover with smiling marketers that was praising them for their patent extension scheme. I wish I'd saved it, but it disappeared quickly – too revealing. The articles described here are simply absurd. I expect you could get these results with Valium in a CRO study of MDD if you gave enough. Even the FDA balked at approving it for monotherapy in MDD.
So why would AstraZeneca even bother to publish these pooled studies? I guess they're milking the last drops before it goes off-patent – getting the Seroquel XR® name out there because Abilify® [the big seller these days] is also approved for MDD augmentation: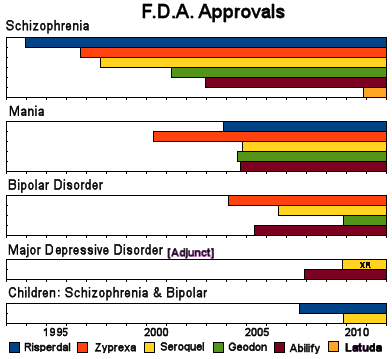 I can't think of any way to end this that isn't a rant. So I guess I'll just stop and let the tawdry facts speak for themselves…