I recently discussed a
paper
demonstrating a three-fold rise in the incidence of Diabetes in children taking Atypical Antipsychotics [
what psychiatrists think…
]. The cohort in that analysis came from the rolls of Tennessee Medicaid and the results were quite clear: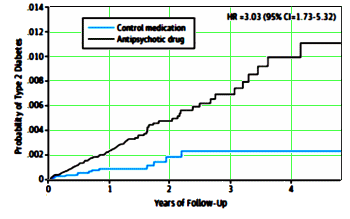 … What does it take to get clinical psychiatry to pay attention to risks that translate into actual patient harm? I fear most psychiatrists looking at the link between antipsychotics and diabetes in youth [and everyone else] will dismiss its importance. After all, diabetes is treatable. You could just throw in some metformin with an atypical antipsychotic, problem solved. And the overall health of the individual — well, that's for the GP to deal with, not a psychiatrist.
… expressing a frustration many of us feel, particularly in the light of another
recent report
[also mentioned in my post] that Atypical Antipsychotics top the list of Medicaid reimbursed medications in children in the US:

Of note, in that report about the increased incidence of Diabetes, psychotic children were excluded from the analysis.
"You could just throw in some metformin with an atypical antipsychotic, problem solved." Unfortunately [and unsurprisingly] as this VERY concerning JAMA Psychiatry article comes out, so does the framework of an industry/academic NIMH funded paper pushing just this approach: Improving metabolic parameters of antipsychotic child treatment [IMPACT] study: rationale, design, and methods. Child and Adolescent Psychiatry and Mental Health 2013, 7:31. see

http://www.capmh.com/content/7/1/31/abstract

and full paper PDF here

http://www.capmh.com/content/pdf/1753-2000-7-31.pdf

Disclosures equally unsurprising –

Disclosures
The aripiprazole for this study was donated by Bristol-Myers Squibb.
Dr. Sikich has received funding from Bristol-Meyers Squibb for a sponsored clinical trial and donation of medication and patient travel expenses for an investigator initiated study of aripiprazole.
Dr. Correll has been a consultant, advisor, lecturer and/or data safety monitor to or has received honoraria from: Actelion, Alexza; AstraZeneca, Biotis, Boehringer-Ingelheim, Bristol-Myers Squibb, Cephalon, Desitin, Eli Lilly, Genentech, Gerson Lehrman Group, GSK, Intracellular Therapies, Lundbeck, Medavante, Medicure, Medscape, Merck, National Institute of Mental Health, Novartis, Ortho-McNeill/Janssen/J&J, Otsuka, Pfizer, ProPhase, Roche, Schering-Plough, Sepracor/Sunovion, Supernus, Takeda, Teva and Vanda. He has received grant support from BMS, Feinstein Institute for Medical Research, Janssen/J&J, National Institute of Mental Health [NIMH], National Alliance for Research in Schizophrenia and Depression [NARSAD], and Otsuka.
Dr. Hamer has been a consultant, advisor, or data safety monitor to or has received honoraria from: Abbott, Acadia, Allergan, Alkermex, Alpharma, AstraZeneca, Cenerex, Corcept, Eli Lilly, Endo, Epix, J&J, NeuroPharmaBoost, Novartis, PureTech ventures, Pfizer, Roche, Sanofi-aventis, Schwartz, Solvey, Takeda, Wyeth, and NeurogensX, Inc. Dr. Hamer and/or his spouse own stock in Bristol-Myers Squibb, Amgen, Lilly, genetech, Proctor and Gamble, and Sepracor.
Acknowledgement
The IMPACT study is funded by NIMH R01 MH080270-01A2.
I thank both AltoStrata and Dr. Purssey for these comments. Childhood Psychosis is an
uncommon finding
, but can be associated with significant impairment, and the article mentioned by Dr. Purssey purports to be discussing childhood psychosis. But we all know that the extensive use of Atypical Antipsychotics in children [Medicaid children] isn't about childhood psychosis at all. It's off-label uses. The drugs are being prescribed for behavior control. That's where the costs come from. That's where the dangers are. That's where the risk/benefit equation has been massively perverted. That's the reason for the alarm. These are the kids that were inappropriately labeled Bipolar, justifying the use of these medications.
There can be little question that the incidence of behavioral problems among the children on Medicaid is quite high. In fact, it would be surprising if that weren't the case. Many of them are foster children or otherwise born into families in difficult circumstances. And for all its glitches, our foster-care system beats the orphanages of a former time hands down. These medications can be somewhat effective in situations when these children inevitably present with behavior problems, but at a very high price. Foremost, this is not a situation best approached by symptom control. Childhood is not something to be gotten through. It's the period of complex development that shapes directions for a lifetime. This is a self-evident truth. It's impossible to imagine that the important work of childhood can proceed through the fog of Antipsychotics – so the side effects such as the metabolic syndromes are an additional burden to children already swimming up-stream. Rampant medication in these situations is a clearly inappropriate and dangerous medical solution to a psycho-social problem. This is not simply something to to decry. It needs to be stopped.
"Aripiprazole was developed by

Otsuka

in Japan, and in the United States,

Otsuka America

markets it jointly with Bristol-Myers Squibb."

"Otsuka's US patent on aripiprazole expires on October 20, 2014; however, due to a pediatric extension, a generic will not become available until at least April 20, 2015. Barr Laboratories [now Teva Pharmaceuticals] initiated a patent challenge under the Hatch-Waxman Act in March 2007. On November 15, 2010, this challenge was rejected by a United States district court in New Jersey."
We don't say it out loud, but I think we hope that patent expiration or a dry pipeline will curb some of these questionable prescribing practices once the marketing pressure from the pharmaceutical companies abates. In this case, that's unlikely to help. Atypical Antipsychotic use in this population particularly has unfortunately become a standard. There was a hopeful report in the Wall Street Journal recently [
U.S. Probes Use of Antipsychotic Drugs on Children
: Federal health officials are reviewing antipsychotic drug use on children in the Medicaid system
] suggesting that help might be on the way. I hope this is more than just a cost analysis, and that the feds shine a broad spotlight, including looking into why the NIMH is funding such an obviously industry-friendly study as the one mentioned above. This is, indeed, a mess deserving close attention…
hat tips to Altostrata and Rob Purssey…