… My last thoughts after reading more of Dr. Lieberman's quotes are, I'm convinced that integrated care is already a done deal; it is just a matter of time before it rolls out across the country. However, I am undecided if the APA leadership is reading the hand-writing on the wall and reacting to it or if they are already positioned in it and are trying to sell it to their membership, and peripherally the public, with the real sell to us coming from the media.
A wise observation. It looks as if they've worked out a pretty detailed system:
These concerns notwithstanding, we must collectively make a leap of faith and be prepared to make changes on the ground in the way that we as psychiatrists practice medicine. But this might be focused on specialty mental health care for the most complex patients, while primary care providers increasingly may conduct the first line of mental health screening and provide basic care. It is likely that the relationship between primary care providers and psychiatrists will expand exponentially with brief phone and "curbside" consultations replacing many of the more formal referrals for consultation.

Many psychiatrists will become leaders of multidisciplinary mental health teams providing coordinated services and, in some cases, may be located within large primary care practices. Conversely, we can expect to see primary care providers move into settings such as community mental health clinics to better provide general health care to severe and persistently mentally ill patients [SPMI].

A possible variant of this is that some psychiatrists and allied mental health providers will assume some basic primary health care responsibilities for SPMI patients or may even become their principal caregivers in collaboration with primary care providers. There is an increasing emphasis on addressing health behaviors such as diet, smoking cessation, and exercise as the understanding of the link between mental health and other health behaviors has deepened. Psychiatrists are finding they need to counsel their patients on these issues and even provide more basic medical screening and care to patients or in consultation with primary care providers. Some psychiatrists are even taking refresher courses in primary care to be able to better address this patient need.

To reiterate, multidisciplinary mental health teams will also become more common within hospitals and local health systems. To meet the anticipated demand from more patients while reducing costs, psychiatrists as the team leaders will provide less direct care [again, focusing their direct care efforts on complex, high-risk cases] and more supervision of care, while monitoring and tracking patient progress and increasing their consultative role with other specialists.
The changes suggested here pick up from the Community Mental Health Initiatives of the 1960s when the State Hospital collapsed. The glue that they intended to hold that system together was Thorazine [and friends]. The thought was that medication would stabilize the patients they are now calling severe and persistently mentally ill patients [SPMI]. We know that story now. It was never fully implemented and naive in its predictions of the power of medications. As Robert Whitaker has pointed out to us all, the reliance on neuroleptic medications persists to the present with these patients. But it also failed in that the ancillary services were never close to what was needed, so many SPMI patients live in our prisons – by default. If what he describes in paragraph two above can do anything for these patients, more power to him – but cost containment is what killed the last attempt, so anyone alive back then is appropriately wary that it will never be appropriately funded.
That the system he's proposing will ever fund what most people reading and commenting on this blog would like to see happen for less severe illness is a dream probably gone with the wind, so more important right now is to look at the Lieberman System of Collaborative Care for fatal flaws. As anyone alert and awake knows, the Managed Care system in place has relegated psychiatrists to the role of medication doctors focusing on symptoms. That has been true for some time, and psychiatry, particularly APA psychiatry, has essentially become a psychopharmacology specialty with what many of us consider an outrageous expansion in drug treatment. Let me remind you of the SAMHSA report I posted recently [a graph…]: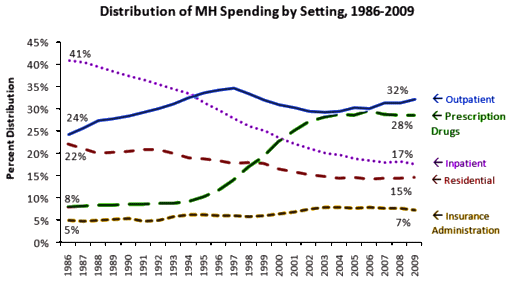 My concern in both the SPMI and the Collaborative Care models Lieberman is proposing is that the legacy of the Age of Psychopharmacology will be directly incorporated into both arms of the Lieberman System and perhaps even expand. This kind of medical model thinking for psychiatry is the stuff of managed care, perhaps its only stuff, and I'm reading the model as pure managed care. Likewise, the upper ranks of organized and academic psychiatry are largely people who have known little else, so the dangers of overmedication are multiplied. Finally, the notion of primary care physicians delivering even more of the mental health care is a further force for overmedication. So even if the pharmaceutical industry has abandoned CNS drugs, their golden years will be perpetuated and institutionalized in a healthcare system even without their "ask your doctor…" ads on television.
Psycritic's post about Collaborative Care [
On Integrated Mental Health Care
] is excellent. In taking about worst case scenarios, he mentions a
comment
from Sandy Steingard that was on this blog last month that made us all shudder:
I was at a conference where a psychiatrist enthusiastically described her experience with collaborative care. Every morning, the treatment team would get together [the "huddle"]. She gave an example of why this was so helpful. One day, someone mentioned that someone's PHQ-9 had gone up by a few points [this is a nine item screening for depression]. The presenter said something like, "So we agreed to increase the fluoxetine from 20 to 40 mg and we were all set to go!"
At the risk of being a broken record, these developments even heighten the importance of full transparency about clinical trials and adverse effects covering all drugs currently still in use – in this case from Prozac forward [1987+]. If this is the service that's going to be provided, it's going to rely heavily on these existing medications. The efficacy and adverse effect information remains heavily skewed by this last twenty-five years of marketing department distortion. I would even think that new, longer clinical trials of heavily used drugs long out of patent might well be in order. I expect that some astute bean counter in managed care land has already figured out that as the drugs in the above graph go generic, their costs are going to take a dive.
In Psycritic's post, he mentioned a situation from his experience in a Collaborative Care setting that will surely become endemic:
I thought that the vast majority of patients I saw would have benefited from psychotherapy, yet very few of the clinics employed therapists, and none had access to more intensive treatments like dialectical behavior therapy. Even in the clinics that did have therapists [usually LCSWs], they were usually full and could not readily see new referrals. Because of the therapist shortage, I often ended up prescribing a medication by default. And of course, other forms of integrated care may be much more compromised than what I experienced. For example, managed care organizations seem to focus much more on cost containment, screening using rating scales, and then using medications to get those numbers down.
So back to where we started and the "done deal" – it's unclear to me why the APA would actually be promoting this model other than that they feel the alternative is extinction, at least third party extinction. I find the notion that psychiatrists are going to close their offices and join group medical practices to fit this template extremely unlikely, but who knows…