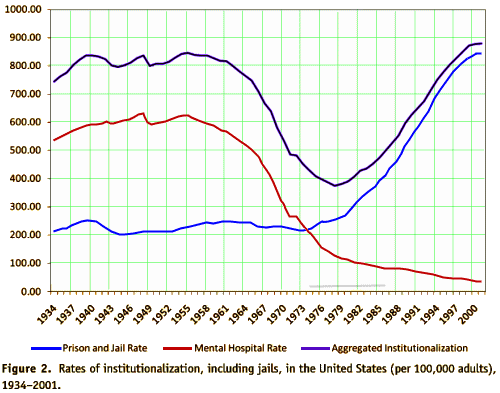 This graph is from a legal article about something else, but the data seems solid. There's a faint line above the abscissa which marks the period when I was in training and then full time on an academic faculty, daily involved with the treatment of psychotic patients. It was towards the end of the massive deinstitutionalization of mental patients. As Dickens said, "it was the best of times, it was the worst of times."
"it was the worst of times"
Deinstitutionalization was a massive happening. People like to think of it as something the antipsychotics were responsible for. True enough that it couldn't have happened without them, but they came into the picture in the mid-1950s and other pieces were needed. In 1963, the Community Mental Health Act poured enormous resources into Community Treatment [for a short while]. But there were two other pieces – SSI [disability income] and a ruling that patients had to be paid for their labors [Souder v. Brennan] taking vital revenue away from the hospitals. This is not meant to be a definitive history, just a picture from the time I came into consciousness – meaning that when I showed up, the resources were disappearing like the tide returning to the sea [except it just kept going out]. So by then, the lectures and articles were about the wonders of Community Treatment and the evils of institutionalization, but the days and nights in the ER were filled with the chaos of too many psychotic people who couldn't go home, and there was no place else to go. The overcrowded and shrinking hospitals became "revolving doors" with very short stays. It was a time when medication was becoming king and the terror about long term consequences was ever-present, but undealt with…
In those days, we talked about TransInstututionalism as a coming possibility – the net movement from Mental Hospitals to other institutions [like prison]. That graph up there is rate of institutionalization, not absolute populations – so it doesn't do total justice to the extent of the problem we now have – the huge problem of mental patients living in our jails. TransInstututionalism happened. And don't think for a minute that they are medication free. To my mind, it's a tragic irony that so many of the liberated mental patients have moved from the frying pan into the fire.
"it was the best of times"
In spite of all the negative things one can say about the past and the present, that period of my line on the graph, it was a time when people with psychotic illness were seen, and saw the light of day. For the century before, they just went away. Looking at the charts of older patients in my time, one could read "Agitated, Psychotic. To CSH." and the next entry might be decades later, parentheses on their life in Central State Hospital – out of sight and out of mind. In my day, we actually saw the patients and had the idea that they could improve. We saw a lot of them able to live among us, and saw some get a whole lot better. Society was more tolerant than we might have thought, sometimes even kinder than we expected, and some of the most obviously impaired chronic patients found ways to survive.
I didn't change to psychiatry to treat chronic psychosis, but once I arrived, I found it fascinating [and still do]. For one thing, psychotic people teach us all about the workings of the mind because it's all right out there. And one quickly learns that with a bit of ongoing help their lot can be dramatically improved – that they are more persons than Schizophrenic. Another super-pertinent thing that every discontinuation study ever done confirms, no matter what the experts recommend they do about medication, the majority of patients regularly discontinue antipsychotics on their own anyway.
since I was there
…
I feel comfortable saying that the injunction to keep people on medication indefinitely is partly a legacy from those days, preventing relapse requiring hospitalization [in the face of no hospitals being available]. Even the most recent
Cochrane Systematic Review
concludes that maintenance neuroleptics are better than placebo in preventing relapse as if that's the major question:
The results clearly demonstrate the superiority of antipsychotic drugs compared to placebo in preventing relapse. This effect must be weighed against the side effects of antipsychotic drugs. Future studies should focus on outcomes of social participation and clarify the long-term morbidity and mortality associated with these drugs.
That's true – as true as it was in 1974. We knew it then as we do now. In those times, many of us were still taught to go for the lowest possible maintenance doses [or none] because of the fear of causing Tardive Dyskinesia. But the official recommendation was maintenance medication, even though compliance was very low. A look at today's
APA Guidelines
shows essentially the same recommendation today for stable patients – still heavily focused on relapse prevention.
Wunderink et al…
What's different about the Wunderink et al study reported in the last post [well worth reading…] and other recent studies is not just that they confirm a minority recommendation from the past. It's they show with evidence that there's another big reason to try for the minimal effective dose or to aim for eliminating medication altogether at some point. The patients treated in this way have a dramatically better chance of recovery – a functional recovery. That they will have more relapses, or that some who will require long term maintenance will have more relapses along the way is a given. But the possibility of long term functional improvement is worth the problems if it pans out in further studies.
While we await the coming or not coming of future wonder drugs, this is the time to give this a real test. There's money in the SAMHSA Block grants [see
out of the loop…
]; there's decent evidence; and there's the long held intuition of a lot of us that medication is necessary for acute psychosis, but that chronic use dulls the mind and may well interfere with moving forward for those who can. There's sure enough to justify more decent trials in First Episode Psychosis, maybe in more chronic cases as well. Who knows, maybe we could even make a dent in that Jails & Prisons graph that we could be proud of…