"So what we wanted to do is to find a diagnostic test that can be done in any clinical laboratory whereby a patient can go to the doctor and the doctor can send blood to the clinical laboratory that can help the physician to decide if the patient is clinically depressed or not. It will help them to live better lives, but it also would help to eliminate the stigma, because if there is an objective measure, a blood test, that can tell whether you are depressed or not, that it's not likely that anyone can tell you 'Oh, just get over it.' In addition to eliminating the stigma, and of course to help the physician make a correct diagnosis, we are also helping society altogether, as depression is going to be the number one burden in the world by 2030."
When I looked at Blood transcriptomic biomarkers in adult primary care patients with major depressive disorder undergoing cognitive behavioral therapy on Friday [see don't ask, don't tell…], I read the write up in TIME Magazine, and linked the one in the Chicago Tribune, but I hadn't gone to the site. It was a videotaped interview with Eva Redei, PhD, the senior author. I transcribed it [above] thinking I wanted to write about it. It's the kind of exaggerating I just hate. But once I heard it, I went back and looked at the article itself. In don't ask, don't tell… , I had been sarcastic: my blog title, their small sample size, the pay for publication online journal, I made fun of needing a test to know if you're depressed [or better]. Maybe I looked back at it because I felt guilty about being so sort of nasty. I know I planned to pan that interview, which I thought was a sham, particularly the plague-of-depression ending. So I read it through again, looked at the tables, and instead of softening, I went from sarcastic to bombastic.
Your don't need to hear another rant, so I thought I'd just stick to the sleight of hand that set me off. These two tables below are from the article with a few additions of my own – the red highlighting, and the columns and headers in shades of salmon: The upper table has the BASELINE data for control and MDD subjects and the lower one is both groups at 18 weeks: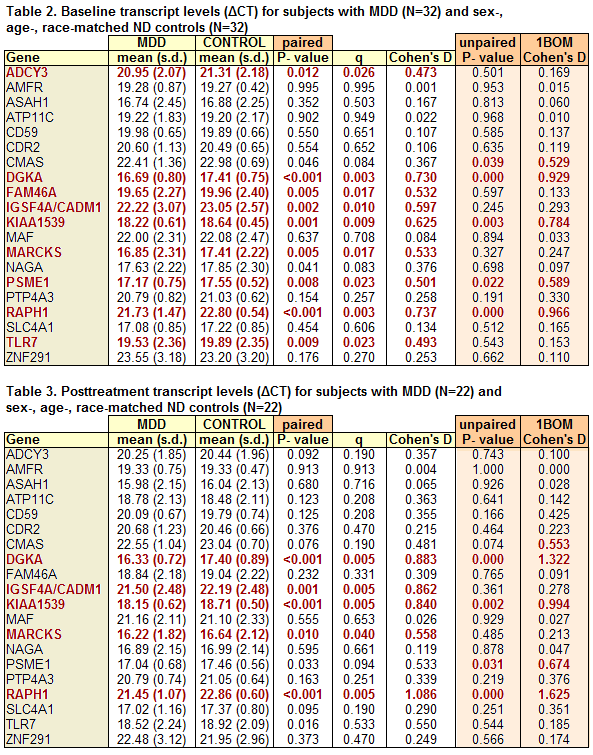 I couldn't figure out why there were two control groups, and why they were different. They were just an age/sex/race matched group used to assay the distribution of the various RNAs they looked at. So I did some Student T-Tests like they prescribed but got very different results. Then I reread the methods. They did
paired T-Tests
!
What that means is that every MDD case had a unique age/sex/race matched control subject:
Paired t-tests are a form of blocking, and have greater power than unpaired tests when the paired units are similar with respect to "noise factors" that are independent of membership in the two groups being compared…

A paired samples t-test based on a "matched-pairs sample" results from an unpaired sample that is subsequently used to form a paired sample, by using additional variables that were measured along with the variable of interest. The matching is carried out by identifying pairs of values consisting of one observation from each of the two samples, where the pair is similar in terms of other measured variables. This approach is sometimes used in observational studies to reduce or eliminate the effects of confounding factors.
That greatly increased their power to find a significant difference, but it plays havoc with Dr. Redei's comment above, "…the doctor can send blood to the clinical laboratory that can help the physician to decide if the patient is clinically depressed or not." This is more like it:
If you go to the doctor for this test, be sure that you take an age/sex/race matched friend who's not depressed to act as your matched control – it's sort of a "buddy system"

which is, of course, ridiculous [actually, even that wouldn't be enough]. They had also calculated Cohen's D [see
about my connectomes…
]. So I redid those Effect Sizes too and they were also very different! I couldn't figure out why from the methods, but I suspected it was some matched pair method similar to the T-Tests. Who knows? I couldn't check their figures as the individual values weren't included. Just more smoke and mirrors . this time it's not from PHARMA – but likely some plan to market this test.
If someone actually really found a blood test that accurately correlated with depression, including being able to discriminate active depression from the trait of being a depressive, the American Journal of Psychiatry, the British Journal of Psychiatry, and JAMA Psychiatry would be fighting over the chance to publish it. It wouldn't be tucked away in a pay-for-play online journal. It would already be in the PsychiatricNews and the author would be being bombarded with speaking engagement requests. That's certainly not what we have here…
…but if you read those media reports and watch the video, this is the very giant leap forward she's talking about…