Several years ago, I ran across a business magazine cover with a high level AstraZeneca executive being praised for figuring out how to extend the patent life of their blockbuster Seroquel® by getting Seroquel XR® approved. I could never find it again. I still feel the loss because it proved that Seroquel XR® was just a marketing ploy…
New York Times

By KATIE THOMAS

APRIL 17, 2015

Last fall, an article in the American Journal of Psychiatry caught the attention of specialists who treat borderline personality disorder, an intractable condition for which no approved drug treatment exists. The article seemed to offer a glimmer of hope: The antipsychotic drug Seroquel XR® reduced some of the disorder's worst symptoms in a significant number of patients…
I have to interrupt Katie for just a moment. I wrote about that article in July 2014 when it was published on-line. There was no glimmer of hope seen here. I thought it was shameful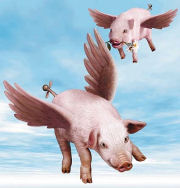 [see
an anachronism…
]. Seroquel XR® was just a patent-life extender. Borderline Personality Disorder is a very complex topic and the notion that there will ever be a "right drug" for the condition is about as likely as pigs flying. When I reviewed the article, I located a
2004 Medscape C.M.E.
where Dr. Schulz had presented industry-funded studies he'd done with Risperdal®, Zyprexa®, and Seroquel® in patients with Borderline Personality – each one showing some effect; each one written up as if it mattered. I actually saw them as playing the companies off against each other.
In the realm of clinical trials, however, reality is sometimes far messier than the tidy summaries in medical journals. A closer look at the Seroquel XR® study shows just how complicated things can get when a clinical trial involves psychiatric disorders and has its roots in intersecting and sometimes competing interests: a drug company looking to hold onto sales of a best-selling drug, a prominent academic with strong ties to the pharmaceutical industry and a university under fire for failing to protect human study subjects…
This article goes on to mention any number of problems with this study. Dr. Schulz had big COI problems having been paid over $100K by the sponsor for various things in recent years. 100% of subjects screened were accepted [unheard of, implying that they were taking all comers to boost their sagging enrollment]. But the top story was that two of the subjects turned out to be sex-offenders living at a halfway house who had signed onto the study for the money. And one of them had spiked the breakfast oatmeal at their halfway house with his Seroquel XR®, a stunt that got him sent back to prison.
In Academic·Industrial·Complex I… we read Dr. Schulz's plan to finance his department by doing «very good clinical trials» and I suggested two criteria for what that might mean 1. trials that were scientifically justified rather that simply commercials [experimercials] and 2. trials that were well executed. Well this whole series of trials on Atypical Antipsychotics generally flunks number 1. and really outdoes itself with Seroquel XR® [after already studying plain old Seroquel®]. And it flunks number 2. in that the execution here is embarrassingly sloppy. This was a Clinical Trial apparently randomizing all comers, with some outrageous antics along the way, that took five years, cost $700K, involved 100 subjects, and was dolled up and published in the American Journal of Psychiatry as if it said something that mattered. The published results actually made very little sense [see an anachronism…].
Bioethicist Carl Elliot's main focus is on the conduct of the Clinical Trials in the University of Minnesota's Department of Psychiatry, and he's collected an impressive array of examples of dysfunction at multiple levels. The recent investigations by an independent panel appointed by the Association for the Accreditation of Human Research Protection Programs and a report from the Office of the Legislative Auditor not only agreed with Elliot but amplified on his observations. The result was a suspension of all Clinical Trials pending further investigation. Dr. Schulz, Chairman of the Department of Psychiatry stepped down. There is a consensus that the Board of Regents and the University President have little understanding of how to do their jobs. Whistle-blowing nurse Niki Gjere describes an atmosphere of fear, but I was more impressed that everyone from the bottom up seems to be just going through the motions, doing nothing wrong, clueless about the uproar.
While I'm obviously relieved that something is finally going to be done about the situation with the University of Minnesota Clinical Trial program, I don't think that we've yet landed on the most basic ethical dimension of this story. The studies on the table right now are a head to head comparison of three [in-patent at the time] Atypical Antipsychotics in First Episode Schizophrenic cases [CAFE], and a string of Clinical Trials of Atypical Antipsychotics in patients with Borderline Personality Disorder as the drugs arrived on the market. All are studies funded by industry and I believe investigator initiated. I question whether there was any scientific justification for any of these trials at the time they were being conducted. Instead, I would propose that all of them were studies probing for some commercial advantage to the pharmaceutical company paying for the trial, and that a strong motive in proposing these trials in the first place was to finance an Department of Psychiatry.
Every Clinical Trial is human experimentation. We've decided that human experimentation is allowed if there have been careful limited trials to assess safety and that the potential outcome of the trial will be of wide benefit to others. There is no reasonable argument that suggests a time release version of Seroquel® will be more effective than the already tested regular Seroquel® in any situation. For that matter, there's nothing that I know about the Borderline Personality Disorder that suggest any medication will be of lasting benefit. Here's Dr. Schulz's slide of the drugs that have already been tried: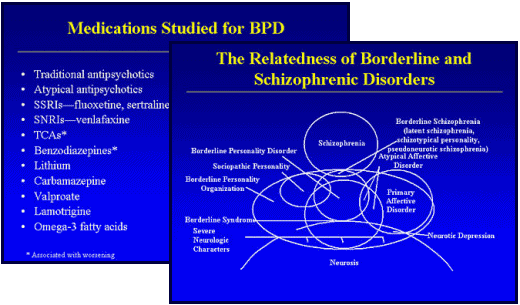 And as to CAFE – is it reasonable to recruit patients with a First Episode of Psychosis [likely the biggest event in their lives] into a study that commits them to a year of medication [blinded] in order to use the outcome in some future commercial or sales pitch? I think not.
And so to the heart of the
Academic·Industrial·Complex
and the ethical dilemma that it contains. The academic part of the pairing agrees to test the drugs [or at least sign off as a tester], to serve as a ticket into the peer reviewed academic journals, and often to promote the drug as a speaker or in a CME presentation, in return for the funds desperately needed to finance Medical Education. The payoff for industry is obvious. And human experimentation in the form of Clinical Trials sits at the interface between the academy and industry.
Is the Borderline or First Episode Psychotic patient told that the study is being done for its commercial value?
Is some of the lackluster and torpid performance of the Clinical Trial staff because they know either directly or intuitively that a given study is not really for the advancement of science? but rather for sales and marketing like in the
email
mentioned earlier in
Academic·Industrial·Complex I…
… R&D is no longer responsible for Seroquel® research – it is now the responsibility of Sales and Marketing. So preclinical research studies aimed at mode of action, although very interesting to both of us, do not translate to marketable messages that will impact sales [at least this is what my commercial colleagues say]. On the other hand, clinical studies that extend the indications for Seroquel® can directly impact sales. With limited budgets, funding of clinical studies will therefore come first.