Starting to work in a public clinic after 20 years in practice as a psychotherapist and five years of retirement was something of a shock. Besides the general polypharmacy, the number of people taking Atypical Antipsychotics was staggering to me. At the time, Seroquel® was the number one selling drug in the country, and everyone was on it. I didn't understand how that had come to be, but I did know what to do about it. So by my second year back at work, no patients in our clinic who were not psychotic were on those drugs.
Recently, they changed the policy at the clinic, and so we've taken on a new crop of patients. And here they come again – this time on a greater variety, though primarily on Seroquel® and Abilify®. And this time around, I've seen three cases of Tardive Dyskinesia [TD]. Mercifully, two were mild and seem to be slowly clearing, but one isn't. It's the patient I wrote about in blitzed… and some truths are self-evident… who was on an outrageous drug regimen. The further along we get with tapering the drugs, the more apparent her TD symptoms – the worst case I've personally ever seen. She's never been psychotic, and her diagnosis is probably best characterized as an attachment disorder.
That's the case that's in my mind as I read these Atypical-Antipsychotic-Augmentation-of-Treatment-Resistant-Depression articles, and probably why I've stayed glued to this topic for so long. I've realized what others may have already known – the Atypical-Antipsychotic-Augmentation-of-Treatment-Resistant-Depression has been advertised far and wide and has given permission to clinicians of many ilks to add Atypicals to their poly-pharmacy regimens. And it's no surprise that the cases I've seen are on Seroquel® and Abilify®. They're the only two FDA Approved for this indication, and are legally allowed to advertise: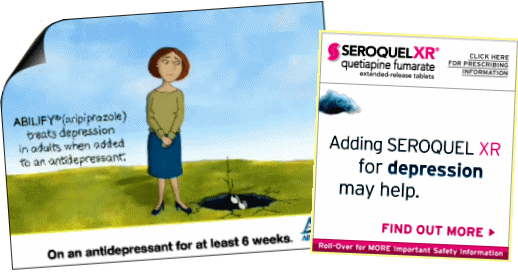 Both Seroquel® and Abilify® are now off patent, so the ads will disappear. But now the FDA has approved Rexulti® for this indication based on these lackluster-at-best clinical trials I've been reviewing, so we can count on seeing in Rexulti®-in-Depression ads soon. Even worse, it has gotten that approval at the beginning of its patent life, so it will be with us for a very long time, perpetuating this practice of Atypical-Antipsychotic-Augmentation-of-Treatment-Resistant-Depression. Can the Direct-to-Consumer ads be far behind?
What's doubly tragic to me, is that as this patient has awakened from her drug-induced-stupor, it's obvious that she's a particularly kind of patient well known to me and others in my tribe. She's a person with an attachment disorder [often called Borderline Personality] whose adulthood has been chaotic because of her difficulty with and in relationships. She's been seen by a variety of mental health types, and has been obviously chronically overmedicated [with her participation]. Such patients finally wear out trying to make the world adapt to their volatility and childish needs, and become very treatable in later adulthood. This process has been called a Hegira of therapies [Gerald Adler]. So here she is, finally ready to perhaps live a different and more fulfilling life, and she may have developed an unnecessary and disfiguring iatrogenic illness to contend with for the rest of her days.
In-so-far as I can tell from my recent review of the literature, there's no real treatment for TD except not to get it in the first place. And although there are exceptions [some early onset cases], one's chance of developing TD on antipsychotics increases steadily the longer you're on the drugs. Add to that the danger of developing what's called the Metabolic Syndrome [weight gain and Diabetes] and the risk side of the risk/benefit equation becomes very heavily weighted. Furthermore, these days, people are kept on medicines once started indefinitely. So this approval of Rexulti® for Atypical-Antipsychotic-Augmentation-of-Treatment-Resistant-Depression has the potential to do some real damage – as that done in my patient to absolutely no good purpose. No short term RCT is ever going to make this risk apparent. And no case of TD is worth the minimal effects the drugs might have on depression.
So that's an additional reason I'm so stuck on this particular story. On to the endings…