I don't much like questionnaires. But if required, I prefer yes/no or one word answer questions. And I've never designed a questionnaire [before today]. But as I was thinking about post-approval monitoring, I decided I'd give it a shot. I was thinking about what information you might gather post approval in help seeking patients taking the drug. You wouldn't much care about controls, or statistical medicinal properties. You'd want to know what a clinician would want to know – is it helping? any problems? And how would one gather such information?
There are two points of contact – the drug store and the office/clinic. The pharmaceutical companies have had success with the former. Their drug reps know what doctors are prescribing to inform their sales calls. If a patient filled out a brief questionnaire at the drug store, I think they'd have to give consent to have that information passed on if it were by patient. I don't know if that would apply by drug alone. But how long the patient took the medication has traditionally been an useful parameter to consider.
A few weeks ago, I said,
"What about the waiting room questionnaires? I'd much rather they ask about the medications the patient is on than being used to screen for depression. It's really the ongoing data after a drug is in use that clinicians need anyway – more important than the RCT that gets things started…"
I liked the thought, so here's my maiden voyage as a clinimetrician – two questionnaires, one for the patient and one for the prescriber [color coded no less]: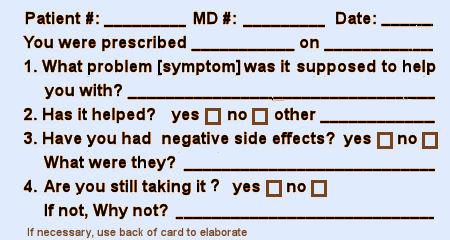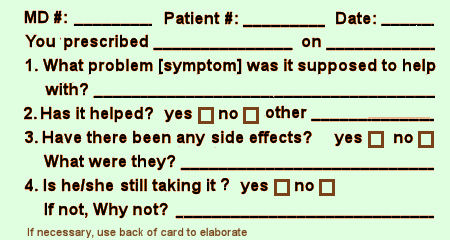 I know. Don't quit your day job. But it makes the point. Given a real bona fide clinimetrician, a decent support staff, and access to the pharmacy records, would something simple like this tell us what we need to know? I call them qk-1 and qk-2 [for quicky]…