While the Treatment for Adolescents With Depression Study (TADS) involved only Prozac as a study drug, there were plenty of other companies invested in countering the FDA's 2004 Warning about suicidality in adolescents on SSRIs: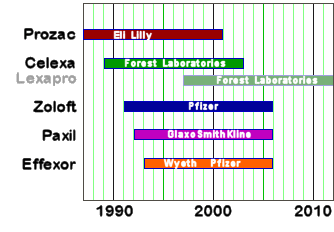 [patent life of the antidepressants]
Now looking at the Financial Disclosures from the four key TADS articles that I mentioned in significant I… and significant II…, these companies were well represented:
My thanks to Rob Purssey for his comments about the conflicts of interest in the TADS articles [1][2][3] on
significant
II…
.
I think we're so used to this kind of thing that it doesn't occur to us how really bizarre having a rainbow coalition of Investigators with personal financial ties to pharmaceutical companies with an investment in the outcome of the study actually involved in the study itself. It's hard to imagine that the connections are unrelated to, for example, publishing this figure in an article titled Suicidal Events in the Treatment for Adolescents with Depression Study…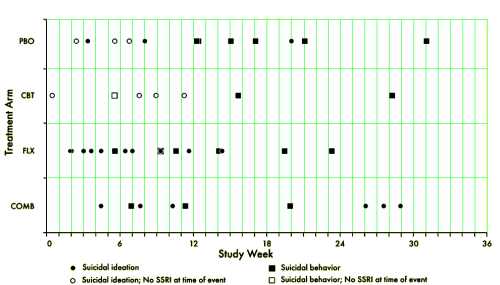 [reformatted for clarity]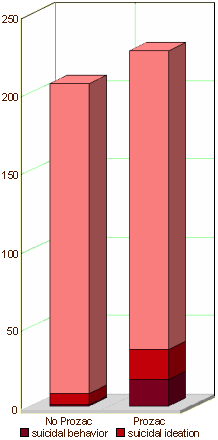 … and failing to mention that 82% of the suicidal events were in kids on Prozac and 94% of the suicide attempts were by kids on Prozac. What other explanation is there besides those conflicts of interest for leaving out the most obvious thing in their data? Where are the graphs in the article that look like these? Raw numbers. One doesn't even need any statistics to see the point. Like all 'good data,' it's just there.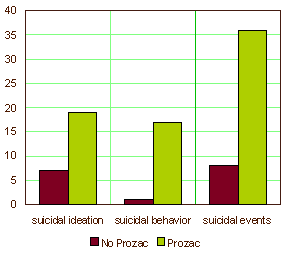 And as long as we're in the neighborhood, what did the treatment do for the kids in the study? We have to look at two papers for that answer. First, the 12 week outcome data published in 2004:
Fluoxetine, Cognitive-Behavioral Therapy, and Their Combination for Adolescents With Depression
by the Treatment for Adolescents With Depression Study (TADS) Team
JAMA. 2004 292(7):807-820. [full text on-line]
This is their outcome graph reformatted by doing that thing I do about making the ordinates start with zero. The absent [B] was another Depression Scale that looked the same as the CDRS-R.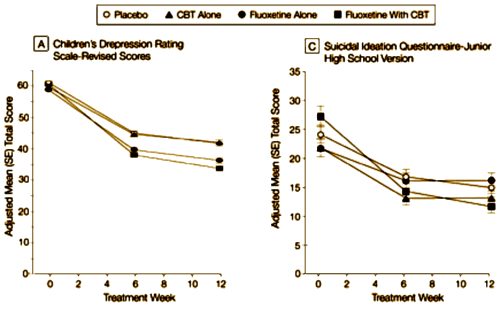 It terms of depression, Prozac helped some. CBT didn't add much. By this suicidal ideation rating scale, Placebo and Prozac came out close to the same. CBT did seem to decrease suicidal ideation.
The Treatment for Adolescents With Depression Study (TADS)
Long-term Effectiveness and Safety Outcomes
by The TADS Team
Archives of General Psychiatry. 2007 64(10):1132-1143. [full text on-line]
The long-term results only covered the treatment groups [the placebo group was no longer in the study]. The results are harder to interpret because the study was unblinded at 12 weeks and they did all kinds of things thereafter. I will admit to having low libido for trying to make sense of it after about an hour and chose playing with my dogs as a more productive use of time on this gorgeous afternoon. That said, here's the outcome they reported [adjusted to start at zero]: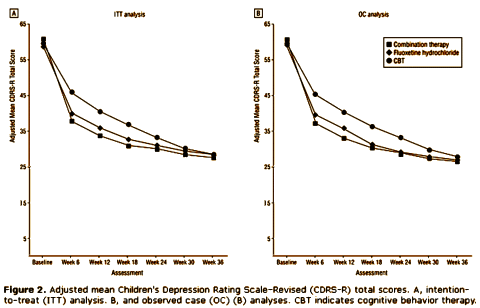 My take by inspection is that one could say that the kids treated with Prozac got better faster, and that depressed kids get better over time anyway [with the reservations that what happened in the second part of the study is not totally clear].
In each of the four papers in the list being looked at from the The Treatment for Adolescents With Depression Study, I had the feeling that there was some level of bias in favor of SSRI effectiveness in adolescent depression and definitely in downplaying emergent suicidality. I've tried to show examples in significant I…, significant II…, and this post, but the concrete examples don't capture it all. For example, I joked around about the difficulty following what happened after the unblinding at 12 weeks, but what I actually felt was that it had been so obfuscated that I'd never figure it out. And there were examples like that in each of the papers. There's little question that there was a lot more of that when it came to suicidality, the grossest example is illustrated above. If you read paper number 4. [Suicidal Events in the Treatment for Adolescents with Depression Study (TADS)], it seems to have been written to "shoot down" the idea of akathisia as the cause of Prozac's suicidality. Since there was no actual clinical material but only rating scales, that effort failed from my perspective. But the point is that there's bias in that orientation, just like there's BIAS in failing to show the graphs I've included above about suicidality.
With the kind of thing that was being published at that time, this was actually a 'good study' compared to something like Dr. Martin Keller et al's
Study 329
using Paxil in Adolescents [
Healthy Skepticism
,
retract study 329…
] which was a 'very bad study.' But where have we come to if a 'good study' is one where the rainbow of financial ties up top suggests to me that a rigorous interpretation of the scientific findings would be impossible by these investigators – repeat
impossible
? A 'good study' on this scale means a 'not as bad study' as the one that was an outright lie. One might say, "
What could the NIMH do? Everybody that was anybody in those days had financial entanglements like that!
" The answer isn't that hard, either don't do the study, or find a somebody who isn't yet compromised to do the study. To my way of thinking, all of these authors, unencumbered by the rainbow of financial ties, were capable of doing this trial correctly. The design is hardly rocket science. The results are fairly clear-cut. This would've been a good research question for some young industry-naive neuroscientist type to cut his/her teeth on. It didn't happen and we're left to endlessly try to sort it out after the fact. They took something that could've made a
significant
contribution to an important question on the table at the time and rendered their efforts
insignificant
. There's just too much jury-rigging, spin, and omission to trust what they said…