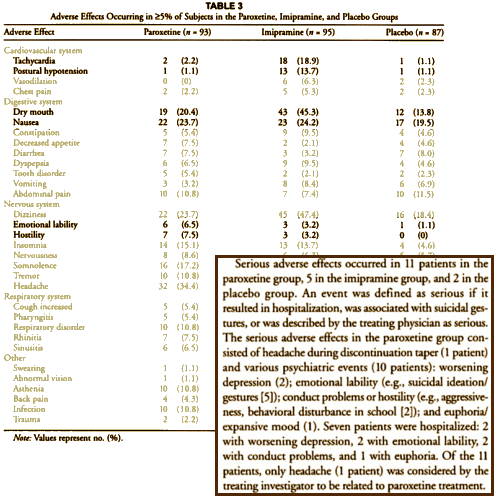 This is how the Adverse Events were presented in the article: the well known CV Effects for Imipramine; the annoying dry mouth from Imipramine's anticholinergic effects; and a little something in the Nervous System section under Paroxetine. In the text, things look a bit more ominous though it's a little hard to parse out what they're saying the way it's written. emotional lability apparently is a synonym for suicidality. But after that, there are 11 patients with serious adverse effects, 21 instances of serious adverse effects, 5 suicidal patients, 7 hospitalized, but only 1 [a headache] related to the medication? Pretty damn confusing. It seems to have confused others too. So by the time it got to the DOJ suit this year [11 years after the article was published], much more had been revealed by various queries. This is from the DOJ Complaint in the recent suit [the $3B settlement suit!] to which GSK agreed without reservation: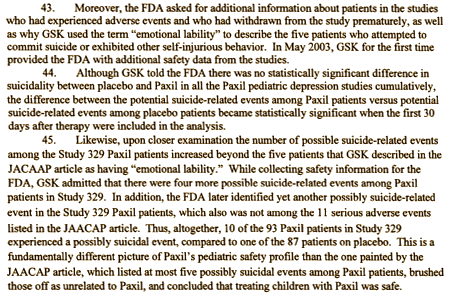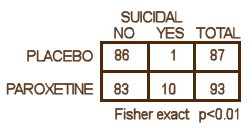 We have little choice but to accept these DOJ figures. Apparently, GSK did, or they wouldn't have paid $3B to settle the suit. But what if the DOJ figures were off as well? How many suicide related events would've been considered significant. The graph on the left shows the number of events and their probability of being significant. The answer is 8 or more to achieve significance, and I accept there were at least that many. So in their list of adverse events in the table,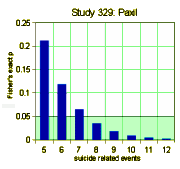 suicide related events are listed as emotional lability and under-reported by as much as 50%. As in the case of efficacy, this looks for all the world like a specific attempt to mislead the readers rather than some mistake or piece of sloppiness. At this juncture, it would be easy to go off on a detour for another round of righteous indignation, and it would sure be justified because this article actively minimized hid the significant finding that over 10% of the subjects taking Paroxetine experienced a suicide related event [and at least 7.5% experienced "hostility" – probably more].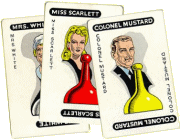 Likewise, there's the issue of whodunit which I find intriguing [and important] mentioned in fascinating anonymous comments recently [here, here, here, etc]. I hope that information continues to come [so long as it passes the test of "evidence based"]. Was it Ryan and Keller in the Parlor? Dulcan in the Conservatory? Sally Laden in the Garden? GSK in the Pantry? Corporate greed? Therapeutic Zeal? Ideology? These things certainly matter and I'll get to those questions. But right now I'm focused on something much simpler. Eleven years after it's publication, we're engaged in an almost unending debate about whether the new antidepressants are safe to give to adolescents – to wit, the recent articles by Gibbons et al spoken about so often here. As a clinician, I know they're not altogether safe, at least not without warning and careful monitoring. I've only seen adolescents as a retired person [since 2007-ish], but I've personally seen enough cases of "hostility" and "suicide related events" on SSSRIs to know that it happens and that it's idiosyncratic, not part of the illness that brought the patient for care. So here's Study 329 that would've helped us with that debate a long time ago, but didn't. Right now, I want to look at the belatedly posted raw data from the study to see if it would've been enough to help us with this important clinical question had it been available in 2001. And if not, what's still missing?
When it's all said and done, it wasn't Study 329 that was the problem. It was that the clinical, scientific, and patient communities were deprived of its findings – the clinically insignificant efficacy of Paroxetine in adolescents, and, more importantly, its potentially dangerous side effect profile. That's the reason for Clinical Trials in the first place. Drugs became regulated to insure safety – efficacy was a later add-on…