Since my earliest days writing about Pharma and the state of modern psychiatry, I've used some version of the image on the left below to convey my beef about the state of play – most recently a few days ago talking about Dr. David Healy's Not So Bad Pharma post [see least-squares-mean patients…]. It's meant to convey that diagnosis is controlled by the APA's DSM-IV/5; effective treatment is certified by Pharma·directed CRO·run clinical trials; and treatment is directed by managed care. The computer originally represented Dr. Madhukar Trivedi's aborted IMPACTS study using computer directed algorithms, but could represent any algorithm create by the APA/Pharma/Managed·Care trio. The point is that a patient is reduced to symptoms [Sx] and the system spits out a treatment [Rx]. There's no doctor in the loop, at least no personal doctor to have independent thoughts – AKA clinical judgement:

I advertised that "My next post will attempt to summarize the first two installments" of Dr. Healy's current series [Not So Bad Pharma and April Fool in Harlow]. That wasn't completely accurate. Healy's right there on the Internet for all to read, but I do want to comment on some of what he has to say. In Not So Bad Pharma, he gives Ben Goldacre his due as an expert on Evidence-Based Medicine and Clinical Trials who points out the many ways that Pharma and the article authors [whoever they are] distort the data, including furloughing about half [or more] of the trials they do. Healy certainly has no objection to data transparency, having called for it himself for years. He summarizes Goldacre's position, "The big picture – RCTs are critical to good medicine and everything would be fine if only companies didn't 'game' them." But adds, "The central problem is the premium Ben puts on controlled trials not found in other books."
I'm going to give my version of one of Dr. Healy's points using the right-hand version of my image above. The main controlling force of the schematic is the randomized clinical trial. What if through data transparency we have all the raw data from the trial [and that's a big 'if']? The clinical trial still determines what happens, and in most cases it is still in the hands of Pharma. They design the trial, pick the parameters, etc. The clinical trial is still king. That was never intended. Here are two versions of that story. One from Dr. Healy's post:
For drugs, the criterion is two positive trials. These regulations were not designed to have anything to do with the practice of medicine, they regulate adverts… Introducing trials into the regulatory apparatus has created a mess. What's been captured is the production of evidence and the more books like Bad Pharma fetish clinical trials the more captured medicine becomes…
First, the FDA does not exist to regulate the practice of medicine. It was chartered by Congress to regulate the claims made by manufacturers about the efficacy and safety of their products. The practice of medicine is regulated by the states. Thus, FDA approval of a product for a given indication is just a permit, not a mandate to use that product in clinical practice. Deference to the regulator is the responsibility of corporations, not of clinicians. Clinicians work from a different evidence base.

Second, clinical trials are not coterminous with clinical practice. Clinical practice must take account of multiple casewise variables that are excluded from clinical trials. Clinical practice occurs over time spans that clinical trials usually cannot match. Clinical practitioners have an ongoing commitment to care for their patients while the academic and commercial CROs that conduct clinical trials do not. Clinical trials in psychiatry nowadays recruit subjects [symptomatic volunteers] whereas clinical practitioners manage patients actively seeking help through clinical referral channels. In some areas of psychiatry like depression and anxiety disorders, the pretend patients and the real patients are different. Just look at the creep of placebo response rates to north of 50% in recent years. Just look at the reported 85% rate of response to placebo in pretend patients with [ahem] psychotic depression in the FDA-monitored trials of mifepristone sponsored by Corcept Therapeutics…
So in Dr. Healy's version, Pharma loves people talking about evidence based medicine and randomized clinical trials because that means they still have control of the evidence base. And I would add that even if Pharma were to play it totally straight, clinical trial methodology permits a claim of efficacy at very weak, perhaps clinically irrelevant, levels.
Another of Dr. Healy's points is, by the way, they're not going to play it totally straight. With great fanfare, GSK has pole vaulted from goat of 2012 [after their well-deserved $3 B fine] to a position rivaling Pope Francis for humility and cooperation, even signing the AllTrials petition – except they aren't going to do it and it's a trick. They're going for data transparency through a glass darkly by adding riders up front. They'll have a board of who-knows-who to decide who gets to see their data and what data they get to see. Not only does the firewall stay up, but by controlling the form of the data, they get to do the same thing they did in Paxil Study 329 – shape what the data says. In the terms from the long gone 1960s, Dr. Healy thinks that industry will co-opt Goldacre's AllTrials, turning his campaign to their advantage just as they've co-opted evidence based medicine and randomized clinical trials.
I hope Ben Goldacre hears that point loud and clear, because I've been worried about the exact same thing as this saga plays out. I'm not sure GSK should've been allowed to sign that AllTrials petition prior to spelling out in minute detail what they mean by data transparency. I anticipate that data transparency GSK-style will be like data transparency Roche-style in the Tamiflu story – bait and switch. They will try to use Goldacre's campaign to their own advantage and continue to keep playing the game until they win. In Ingmar Bergman's classic, The Seventh Seal, about his chess game with Death, the Knight says, "As long as I resist you, I live":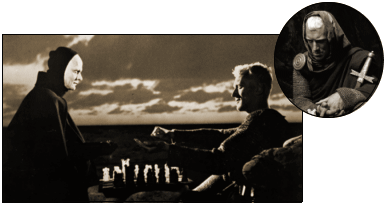 The pharmaceutical industry has turned every single reform movement to their advantage so far, and one can begin to think of them having an inevitable advantage – something like that of Death in the movie. The truth is the opposite. It's GSK that's fighting for its life as defined by the kind of blockbuster profits they've come to require. The stakes for GSK and Andrew Witty are higher than most of us can ever imagine. Sir Andrew Witty can't ride on being a Knight forever. He's the one saying, "As long as I resist you, I live," and David Healy is onto him. I hope Goldacre, Godlee, Doshi, Jefferson, et al are as well.
There's much more in these two posts, including a takedown of my own favorite data-transparency flim-flam man, Robert Gibbons, author of the meta-analysis from outer space that has been such a preoccupation of my own [in
April Fool in Harlow
][[
an anatomy of a deceit…
et al]. In the second part of
Not So Bad Pharma
, Healy synopsizes the points he makes in Pharmageddon. He's accused of being a cryptic writer at times. In this instance, I don't think that's the case. Some of his points are counter-intuitive and require more than just reading, they require something like study. That's the reason I haven't synopsized them here. I haven't digested them myself enough to comment, though I'm beginning to understand his idea about how making drugs prescription-only was part of the problem. This version is a simple statement of the point:
A second set of bolts put in place in 1962 was prescription-only status for medicines [

Dance of the Sugar Plum Fairies

]. The idea that drugs should be prescription-only fits Ben's worldview – no matter how health literate you are doctors have spent more time being educated in these things than you and they're here to manage you.

But prescription-only was a mechanism designed to control addicts and it makes doctors rather than their patients the consumers of medicines. And pharmaceutical companies bring more money to bear on influencing this small band of consumers – $50,000 per annum per doctor – than other companies bring to bear on influencing an entire population. When they slip on the Ring of Prescription Privileges, doctors become visible to Eye of Sauron and shrivel.

The hazards of thalidomide came to light in Germany because it was over-the-counter there and doctors didn't make a living out it. Ditto with tobacco and alcohol.

In contrast, the significant hazards of prescription drugs now take 15 – 20 years to be accepted. The combination of trials and prescription-only status has fashioned doctors into a risk-laundering service for companies. Bad Pharma mentions nothing about this.
For myself, I cringe when I hear the term evidence based medicine these days. When somebody uses it and you argue with anything they say, it's like talking about Women's Rights to a Taliban soldier [who is armed]. It reminds me of how I felt about all those patriotic magnets stuck all over cars in the early part of our Invasion of Iraq. I felt that the genuine patriotism of Americans, a feeling I share, was being misappropriated – and that there was nothing I could say that didn't sound like treason. If evidence based medicine meant what it means to me fifty years after starting medical school, I'd have it tattooed on my forehead. But that's not what it means these days. It means that if you can't prove it with a randomized clinical trial, it doesn't exist. That is wrong, and as Healy points out, a central piece of the problem. It's the same kind of perversion as those magnets – something essential betrayed…