Ever since I ran across this graph of the rates of institutionalization, I've been mulling over the plight of the severely mentally ill during my time in psychiatry [that faint line above the abscissa marks when I was directly involved]. Writing about it a week or so ago [functional improvement…], I called it Transinstitutionalization – a term from those days predicting that this is what would happen. It does seem naive in retrospect to think that one could Deinstitutionalize the patients in our massive State Hospital system simply by shutting it down. The planned Community Mental Health system was never fully realized, and this graph suggests that the patients essentially moved next door into our prisons: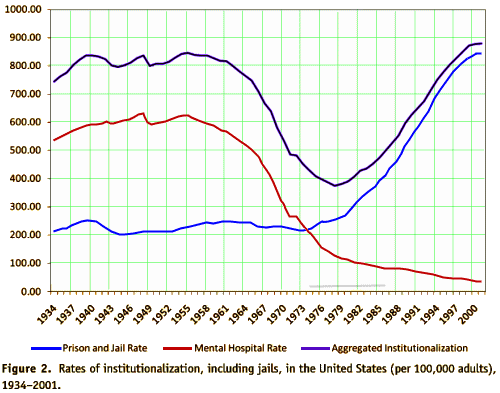 Looking around to find the magnitude of the problem, I ended up on the National Institute of Corrections web site where I found this:
---
Mentally Ill Persons in Corrections
Mentally ill persons increasingly receive care provided by corrections agencies. In 1959, nearly 559,000 mentally ill patients were housed in state mental hospitals. A shift to "deinstitutionalize" mentally ill persons had, by the late 1990s, dropped the number of persons housed in public psychiatric hospitals to approximately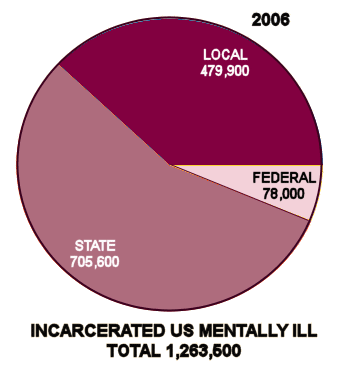 70,000. As a result, mentally ill persons are more likely to live in local communities. Some come into contact with the criminal justice system.
In a 2006 Special Report, the Bureau of Justice Statistics estimated that 705,600 mentally ill adults were incarcerated in State prisons, 78,800 in Federal prisons and 479,900 in local jails. In addition, research suggests that "people with mental illnesses are overrepresented in probation and parole populations at estimated rates ranging from two to four time the general population. Growing numbers of mentally ill offenders have strained correctional systems.
---
There are so many ways to think about this, most of them suffused with cynicism. When I'm in a cynical mood, I can look at these numbers and cast blame in all directions, but then I come up short, because I'm not really sure what to do about it either. If there is ever a place where the parable of the blind men and the elephant fits like a glove, this is it: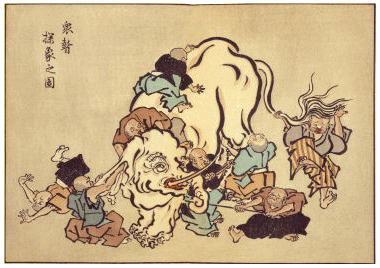 Everyone's looking at the part that effects them, and the big picture gets lost in the shuffle. Like most mental health types, I tend to accept the MAD vs BAD distinction and want to separate out the mental patients and get them out of the prisons and into the community – the battle cry of my era and the Community Mental Health Movement. Allen Frances and DJ Joffe have an excellent post up that somewhat takes that perspective [see The Hall of Shame – Who Is Failing the Severely Ill?]. I agree with their every word, but always worry that it will fall on deaf ears like it has for such a long time. I was actually impressed with some of the information and policy discussions on the National Institute of Corrections web site as well as a report I found there [Improving Outcomes for People with Mental Illnesses under Community Corrections Supervision:] focused on the parole system. They're much more mental illness savvy than I realized.
Again, like most mental health types, I look at that pie graph up there and after I get over the magnitude of the problem, I begin to wonder about diagnosis. How many have psychotic illnesses? Are these the homeless chronic patients who have been picked up for minor crimes? How many are primarily substance abusers? I haven't been able to find those numbers yet, but I'm still looking.
Looking at that graph at the top, I have to remind myself that it is not populations in jail or mental hospitals, it's rate of institutionalization. They aren't the patients from the days of Denstitutionalization, they're a new generation. And it looks to me as if we have a surprisingly fixed rate of removing people from our society for one reason or another. The graph itself is from a study of violent crime – homicide [An Institutionalization Effect: The Impact of Mental Hospitalization and Imprisonment on Homicide in the United States, 1934–2001]. And what it shows is that there was a dramatic increase in the homicide rate in the 1970s and 1980s when Institutionalization had its big dip. It's a complex legal article, and you'll have to read it yourself to figure out what they make of their findings: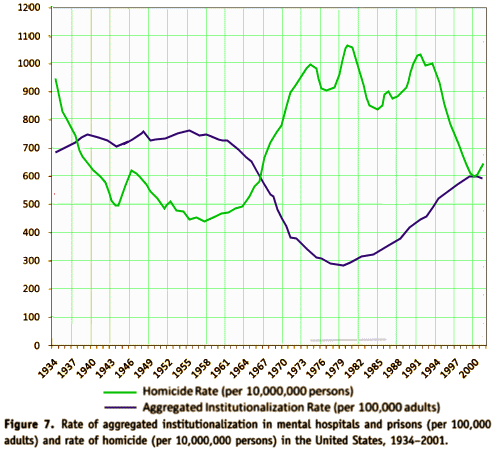 Right now, Law Enforcement is having to carry the ball for the most important mental problems in our country. While they seem to be doing a credible job under the circunstances, it's not what their system was designed to do. Here's what
Dr. Frances and DJ Jaffe
have to say:
Dr Jaffe writes:

The bipartisan Helping Families in Mental Health Crisis Act (HR3717) has wide support among those who advocate for the 5 percent of the population with the most serious mental illnesses. But there are parts of the mental health industry that ignore the seriously ill. Over 500,000 of the most seriously ill are incarcerated or homeless, largely because the mental health industry focuses on all others.

Substance Abuse and Mental Health Services Administration: SAMHSA distributes over $400 million in mental health block grants to states and tells them how to spend it. But as Representative Tim Murphy noted, "SAMHSA has not made the treatment of the seriously mentally ill a priority… It's as if SAMHSA doesn't believe serious mental illness exists." SAMHSA encourages states to spend block grants on the highest functioning. It wants to replace the scientific medical model with their internally invented recovery model, and creates it's own "illnesses" — bullying and trauma being the most recent.

Consumer Groups: The National Coalition for Mental Health Recovery (NCMHR) is the umbrella organization for SAMHSA-funded consumer groups like the National Empowerment Center and National Mental Health Consumers Self Help Clearinghouse. Rather than advocating for the seriously ill, they advocate for anyone with "lived experience." They believe everyone should self-direct their own care, thereby ignoring those too sick to do so.

Mental Health Lawyers: The Bazelon Law Center, ACLU, the National Disability Rights Network (NDRN) and State Disability Rights organizations not only ignore the most seriously ill, their actions cause harm. These non-profit law centers fight against Assisted Outpatient Treatment and creation of hospital beds for the most seriously ill thereby making incarceration inevitable for many.

Mental Health America: Mental Health America is a trade association for service providers. Rather than serious mental illness, MHA is "dedicated to helping all Americans achieve wellness." MHA of Essex County New Jersey is one of the few chapters that does try to help the most seriously ill.

National Council for Community Behavioral Health: This organization represents behavioral healthcare conglomerates. They mainly lobby for funding Mental Health First Aid (MHFA) classes they sell. MHFA is based on the false premise that the mentally ill are so asymptomatic special training is needed to identify them and that once identified services are available to refer to. MHFA is not proven to help the seriously mentally ill.

National Alliance on Mental Illness: Historically, NAMI did focus on serious mental illness because it was founded by families of the very seriously ill. In 1993, NAMI argued for parity for people with severe mental illness. In 1995, NAMI endorsed various forms of involuntary treatment when needed. Cut to today. Instead of the 14 million who are most seriously ill, NAMI National now claims to represent 60 million people with any mental health issue. Some brave state and local chapters like NAMI/NYS have refused to follow their lead and they still focus on helping people with serious mental illness.

American Psychiatric Association: The APA represents psychiatrists and publishes the Diagnostic and Statistical Manual that determines what is and isn't a mental health problem and therefore gets a billing code. It is in the APAs interest to have everyday problems declared a disorder so members can be reimbursed for treating them. A subset of psychiatrists do treat the seriously ill and immediate past president, Dr. Jeffrey A. Lieberman has gone out of his way to increase the visibility of serious mental illness, but serious mental illness is still only a small part of APAs focus.

American Psychological Association: This APA represents "130,000 researchers, educators, clinicians, consultants and students." The most popular subjects for their members are addiction, bullying, marriage and divorce, personality, sexual abuse, and depression, not serious mental illness.

Celebrity Centric Advocacy Organizations: None of the 29 events sponsored by The Rosalynn Carter Symposium on Mental Health Policy focused on serious mental illness. Patrick Kennedy's One Mind for Research is primarily involved in post-traumatic stress disorder, traumatic brain injury, and stigma education, not schizophrenia and bipolar. He has used The Kennedy Forum on Mental Health to call for an end to the IMD Exclusion, but has not spoken out on important initiatives like implementing Assisted Outpatient Treatment or criticized the CMHCs created by his uncle for refusing to serve the most seriously ill.

Law Enforcement:

Ironically, this is the one bright spot. Law enforcement organizations like

The National Sheriffs Association, the New York State Association of Chiefs of Police

have stepped in to fill the void left by the mental health industry's abandonment of the most seriously ill. They've become powerful advocates for increasing hospital beds for the seriously ill and are working to force the mental health system to stop ignoring them. Law enforcement is vigorously supporting Rep. Tim Murphy's Helping Families in Mental Health Crisis Act and working with families of the seriously ill helped it gain 95 cosponsors from both parties. Those who want to help people with serious mental illness should ask their Representative to support this bill.

From Dr. Frances:

And I would add one more name to DJ's shame list. The National Institute Of Mental Health devotes almost all of its enormous research budget to glamorous, but very long shot, biological research that over the last four decades has contributed exactly nothing to the treatment and lives of the severely ill. Surely, biological progress will eventually be made, but at best it will take decades to have any impact on the current real world problems of the mentally ill.
The only things I would add at this point to their synopsis is that the time for decrying, blaming, or ignoring this has passed. It's time for the mental health agencies and the professional organizations to turn their attention to where our most-in-need patients actually live – our jails and prisons. And I would amplify Dr. Frances' point. This effort should be lead by the National Institute of Mental Health and the Substance Abuse and Mental Health Services Administration. That's what they're for. Psychiatry came into being to care for these specific patients and we've abandoned them…