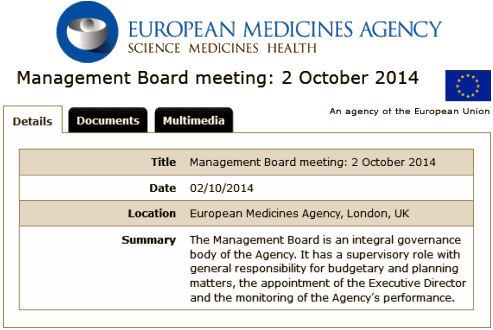 The meeting when the EMA will deliver their formal policy for Data Transparency is just a week away. Earlier, I've mentioned my apprehension about what they might say [the other shoe…] and given an outline of the kind of data that might be involved [it matters…]. Several of years ago, I was pointed to some of the original trials of Imipramine from before they were required by the FDA [remembrance of things past…, remembrance of things past redux]. Their outcome variable was much closer to the one familiar to all clinicians – they interviewed the patients. They had a placebo control group and the study was double-blinded as in modern trials. They saw the subjects weekly and classified their responses based on the clinical interview:
The results of treatment were assessed as symptom free, greatly improved, somewhat improved, no change, or worse. For the purpose of assessing the value of the drug as a significant therapeutic agent, the first two of these categories have been combined as a good or worth-while result and the other three as a poor result. Patients showing a good result were able to return to their normal activities without undue effort…
Note that they didn't even settle for "somewhat improved." They did do a statistical analysis, but they didn't need to. All you had to do was look at the results to see the effect of the drug. The formal output was the size of the effect expressed as the NNT [Number Needed to Treat], and those are robust responses [2.08, 2.56].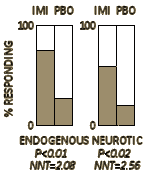 They concluded:
A controlled trial was carried out to evaluate the effects of imipramine on endogenous and reactive depression. In endogenous depression 74% of cases showed a good response to the drug, while 22% responded to the placebo [P<0.01]. In reactive depression 59% responded satisfactorily on imipramine, as compared with 20% on the placebo [P<0.02]. On comparing these results with those of a previous trial of iproniazid the impression was obtained that imipramine was the more effective agent in treating endogenous depression.
It's a different world now – 50 years later. The trials are conducted by technicians trained specifically to do drug trials. They follow formal protocols and administer formal tests – rating scales that are used for diagnosis and to catalog responses. They ask about adverse experience and transcribe what they're told. The patients are recruited from clinics and through advertisements rather than just being people who are seeking treatment. The results are tabulated and analyzed on computers by statisticians. The trials are primarily financed by the drug's manufacturer and analyzed by their own scientists. Many of the published articles have been written by medical writers hired by the trial sponsor. The involvement of the actual clinician authors whose names are on the published papers varies from none to some, but they're rarely authors of the sort who did that early Imipramine study. Like I said, "It's a different world now."
It would be the naive person, indeed, that was unaware of the increasingly blurred boundary between commerce and medical practice. Yesterday at a charity clinic in a very rural community, over 10% of the patients I saw asked if Cymbalta® was right for them. Being asked that repeatedly is bad enough. But what's worse – I don't can't even know the answer. It feels like a pincer move – living between a contaminated literature and a successful Direct-To-Consumer ad campaign. Throw in ineffective and complicit professional organizations, an academic community that is often asleep, the restrictions from third party payers, and the accusations of activists, and sometimes you just want to throw up your hands and surrender. And sadly, many physicians [and patients] have done just that.
It would be equally naive to think that having the kind of Data Transparency originally promised by the European Medicines Agency will fix all of those things. The dyke has too many holes in it for that. But it would be one fine place to start. The threat of having their work checked would have a major impact on the invasion of the medical literature by commercial interests. And while it wouldn't necessarily tell me if Cymbalta® is right for you, it would make it at least possible for me to approximate the answer if I or others were actually able to study the studies [and we did it]. So from my perspective, there's a lot riding on next week's report on the EMA's definitive policy…