I'm old enough to have been in training when the classic version of Manic Depressive Illness was still the predominant view – a familial Illness characterized by recurrent episodes of either Mania or Severe Depression that began in adulthood. After the coming of the DSM-III, the domain of that diagnosis expanded in multiple dimensions, and at the turn of the century had been extended into the childhood, primarily by Dr. Joseph Biederman and his group at Harvard. The syndrome they described in children didn't fit the classic intermittent pattern and had as the main symptom "super angry/grouchy/cranky irritability." The notion of the "Bipolar Child" swept through the ranks of Child Psychiatry like wildfire with much fanfare and a forty fold increase in diagnosis in a short period of time.

The topic of the "Bipolar Child" and the use of Atypical Antipsychotics in children were intimately intertwined from the outset. J&J had initially hoped to obtain an indication for its first ever Atypical Antipsychotic, Risperdal®, for behavior control in intellectually impaired children, completing a Clinical Trial in 1998 [Double-blind, placebo-controlled study of risperidone for the treatment of disruptive behaviors in children with subaverage intelligence]. But the FDA turned them down. After Biederman's 2000 paper, Pediatric mania: a developmental subtype of bipolar disorder?, there was an explosion of interest and the Harvard group published series of clinical trials of various Atypical Antipsychotics in Bipolar children [see bipolar kids: biedermania and super angry/grouchy/cranky irritability…], including a ghost-written rewrite of that earlier disruptive behaviors paper, this time pitched towards affective symptoms [see trial 93: a bad penny…, trial 93: a very bad penny…, trial 93: a very very bad penny…]. The "Bipolar Child" epidemic seemed to take a dive when Senator Grassley's investigations of unreported pharmaceutical income in 2008 included Dr. Biederman, and he was censured by Harvard [bipolar kids: harvard acts…][see also The False Epidemic of Childhood Bipolar Disorder].
Of all the controversies around overmedication, this one draws the most sparks – the use of antipsychotic medications in children. To some, it is seen as simply an excuse to use potent [and potentially toxic] antipsychotics to control disruptive behavior, noting that the drugs are heavily used in kids in public systems, foster care, Medicaid, etc. To others, it is a welcomed treatment of a previously untreated disease. Whatever the case, the drug use continues. There were even several attempts at
name-changing
. When all of this broke, the Child & Adolescent Bipolar Foundation changed its name to
The Balanced Mind
[see
what's in a name? that which we call a rose…
]. And the DSM-5 Task Force created a category [
Disruptive Mood Dysregulation Disorder (DMDD)
], specifically to "
give these children a diagnostic home and ensure they get the care they need.
" Apparently, the scope of these prescribing practices hasn't responded to the name changing. In a recent press release, the JAMA highlighted the problem referring to a recent
article
:
JAMA – Journal of the American Medical Association

March 3, 2015

Summary:
With a concern about inappropriate prescribing of antipsychotic medications to children, 31 states in the U.S. have implemented prior authorization policies for atypical antipsychotic prescribing, mostly within the past 5 years, and with most states applying their policies to children younger than 7 years of age, according to a study.

Over the past two decades, antipsychotic prescribing to youth, almost exclusively comprising atypical antipsychotic medications, was estimated to have increased from 0.16 percent in 1993-1998 to 1.07 percent in 2005-2009 in office-based physician visits. Antipsychotic use is also 5-fold greater in Medicaid-insured youth than in privately insured youth, and occurs mostly for indications not approved by the U.S. Food and Drug Administration [FDA]. In light of antipsychotic treatment-emergent cardiometabolic adverse events, several government reports called for efforts to improve pediatric psychotropic medication oversight in state Medicaid agencies. Such efforts have included age ­restricted prior authorization policies, which require clinicians to obtain preapproval from Medicaid agencies to prescribe atypical antipsychotics to children younger than a certain age as a condition for coverage, according to background information in the article…
And related articles are becoming increasingly common in a variety of venues [Antipsychotics For Poor Kids Are Booming, It's Time To Look At Prescriber Decision-Making referring to Antipsychotic Medication Prescribing in Children Enrolled in Medicaid]. In the antipsychiatry writings, it's seen as a paradigm of medical-model thinking [The Drugging of Children in Foster Care]. Meanwhile, Dr. Biederman is still chasing the Bipolar Child disease entity [Further evidence for robust familiality of pediatric bipolar I disorder: results from a very large controlled family study of pediatric bipolar I disorder and a meta-analysis]. So with that as a background, we read this Friday in the PsychiatricNews:
PsychiatricNews

March 13, 2015

The Food and Drug Administration [FDA] has approved Saphris [asenapine] as a therapy for the acute treatment of manic or mixed episodes associated with bipolar I disorder in pediatric patients. Saphris becomes the first atypical antipsychotic to be approved for children with bipolar I disorder in the last five years. The medication was initially approved in 2009 for the acute treatment of bipolar I disorder and acute/maintenance treatment of schizophrenia in adults.

The FDA approval of Saphris is based on the positive results of a clinical trial of 403 children [aged 10 to 17] examining the effects of twice daily doses of 2.5 mg, 5 mg, or 10 mg of the drug. All three dose levels were associated with improvements in both mania and overall disease severity compared with placebo. Side effects included sleepiness, dizziness, strange taste sensations, numbness of the mouth, nausea, tiredness, increased appetite, and weight gain…
The results are posted on clinicaltrials.gov [NCT01244815], though I don't think there's a published paper, and the only thing on Drugs@FDA is the Approval letter:
Acute: Measured Values after 3 Weeks

---

Placebo
Asenapine
2.5 mg BID
Asenapine
5.0 mg BID
Asenapine
10.0 mg BID
Participants
79
88
87
81
Change in Y-MRS
Mean ± SD
-9.6 ± 7.8
-12.3 ± 9.0
-15.1 ± 9.5
-15.9 ± 9.1
P Value
=0.008
<0.001
<0.001
There was an Extension Study [NCT01349907] of maintenance therapy for up to 50 weeks with two groups, the Placebo group and those treated with Asenapine in the Acute 3 week study. Both groups were treated with maintenance Asenapine for up tp 50 Weeks. The primary outcome measure was the number without any adverse event:
Maintenance: After 50 Weeks of Asenapine

---

Acute
Asenapine/Asenapine
Placebo/Asenapine
Participants
241
80
With Adverse Event
197
74
Completed Study
102
38
While I think that table is right, the results database and numbering on clinicaltrials.gov was obscure to me. Assuming I got it right, the Maintenance phase study was a bust. The Atypical Antipsychotics have generally been approved by the FDA for adolescents like this approval for Saphris®, but not for children where they have been prescribed "off-label."
And finally, here are three guides for Pediatric Bipolar Disorder for Parents and Families from the National Institute of Mental Health, the American Academy of Child and Adolescent Psychiatry, and the Balanced Mind Parents Network respectively: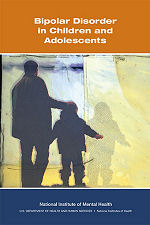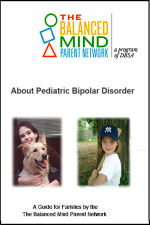 [click on an image to link to the guide's content]

---
If this post has seemed to wander aimlessly from topic to topic without any organizing outline, that was my intent rather than a lack of direction or purpose. That's exactly how this whole story of the Pediatric Bipolar Disorder feels to me – a confusing collage of disjointed trends that can't seem to land on any organizing principle. It's as if the Diagnosis actually grew to meet the arrival of a new Treatment, rather than the other way around.
Not long after the Atypical Antipsychotics came on the scene, Dr. Biederman's group [who had been primarily focused on kids with ADHD/ADD] proposed that a subgroup of their ADHD kids [a subgroup that were prone to temper outbursts and agitation] were in fact children with Bipolar Disorder. These were "super angry/grouchy/cranky irritable" kids who did not seem to have periodic illness as the classic adult Bipolar Disorder patients – nonetheless, the hypothesis was that this is the childhood equivalent of Mania. The newly introduced Risperdal had been shown to be effective in disruptive intellectually impaired children, and in a series of studies, the Atypical Antipsychotics were found effective in the kids described by Dr. Biederman's newly minted Bipolar Disorder. As mentioned, this Diagnosis caught on like a new cell-phone technology and there was an epidemic of Pediatric Bipolar Disorder. At the same time, there was an epidemic of the rampant use of Atypical Antipsychotics in children in Foster Care. While many were diagnosed as "Bipolar," the clear implication was that the medication was being used for behavior control.
Dr. Biederman's fall from grace in the Grassley Investigation also threw his new version of Bipolar Illness into question. The APA even actively created a new disorder in the DSM-5, Disruptive Mood Dysregulation Disorder, designed to divert people from making the diagnosis of pediatric Bipolar Disorder. A distinguishing feature of this new category was that it was non-episodic. But pediatric Bipolar Disorder didn't retreat back into its preBiederman infrequency. It has stayed very much on the front burner. And the makers of the Atypical Antipsychotics have applied for and been granted FDA indication approval as the drugs have come onto the market [allowing them to advertise]. In the family guides above, there's reference to the original Biederman version [super angry/grouchy/cranky irritable kids] – a negative reference [see here]. The version described in the guides is similar to the more usual adult form of the illness. In the four or five years I volunteered in a Child and Adolescent clinic that saw primarily Medicaid kids, I never saw a case that would fit the patients mentioned in those guides, though I saw a number with that diagnosis who had been put on an Atypical Antipsychotic. I did see a lot of the Biederman version, out of control disruptive kids who were among the ranks of those who had grown up pillar to post, in and out of foster care.
This clinical trial with Saphris is typical of the Antipsychotics. One can sedate any kind of out-of-control-ness with the Atypicals [just like with the First Generation Neurpleptics], so there's no surprise that they worked acutely. However, it's rarely true that these drugs can be taken long-term without adverse side effects of one kind or another as seen in this trial.
All things considered, I remain concerned that the epidemic started by Dr. Biederman 15 years ago is continuing. That's not just based on my own limited experience. It's based on the high density of "KOLs" involved in these guides, the ongoing presence of PHARMA in this thread, and the pressure to "control" these kids. In my case, the pressure to medicate didn't come from psychiatrists. It came from people in the system and the foster parents themselves. It's part of the reason I no longer volunteer in that clinic. As I said, I'm afraid my opinion is that this was a Diagnosis that followed the arrival of a Treatment – that the epidemic begun by Dr. Biederman's Group has endured by inertia and continues to be heavily colored by the PHARMA allied KOLs…