Posted on

Wednesday 21 January 2015
PsychiatricNews

Paul Summergrad, M.D.

January 2015

It was

APA

, along with

NIMH

and

academic psychiatry leadership

in the latter part of the last century, that

helped the field to develop to its current prominence

. It is incumbent upon us to focus our attention on these issues so that our academic departments remain strong enough to allow care, new treatments, and education to move forward effectively at a time when our services have never been more essential or the potential for fundamental breakthroughs greater.
It is actually unfair of me to snip out this last paragraph from Dr. Summergrad's most recent commentary. He's the first thoughtful President of the APA in memorable history, and this piece appropriately focuses on a real problem. He lays out the forces involved reasonably well – until his last paragraphs where, from my vantage, he could've appropriately written…
It was APA, along with NIMH and academic psychiatry leadership in the latter part of the last century that lead the field to its current dilemma.
… and been more accurate. Certainly, the problems psychiatry faced fifty years ago were daunting and needed to be addressed. The Community Mental Health Movement collided with changes in the collective American attitude towards government involvement in social issues, and it began to wane before it really got started. The psychoanalytic and other psychotherapeutic paradigms had reached a point of exhaustion, yet remained over-represented in the hierarchy of psychiatry.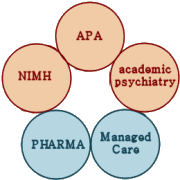 Long psychotherapies were being billed to medical insurance, a practice that had to change. And there were competitive wars with other mental health specialties. All were problems in need of urgent attention. While there was nothing so wrong with the manifest solution [the APA's DSM-III], the method of change [
post without an end…
], the over-representation of the neoKraepelinian point of view in the background, and the major unmentioned forces [
PHARMA
and
Managed Care
] were specters that would haunt psychiatry's rise "to its current prominence" throughout.
Reading Dr. Summergrad's summary of the problems faced by academic psychiatry today is a déjà vu for me – the quicksand I experienced during the late 1970's directing an academic psychiatric training program. Put simply, there was no fiscal support in sight. Like the Kalahari Desert on a Discovery Channel special, the verdant plains of a forgotten rainy season had given way to a barren desert with no future promise on the horizon. Whether PHARMA or Managed Care was involved in bringing about psychiatry's radical changes is immaterial now. But in retrospect, their involvement was an integral part of the story going forward. For PHARMA, it portended a large potential psychopharmacology market that was realized beyond its value. And for Managed Care, that dovetailed into a cost cutting windfall. For practicing psychiatrists, it ultimately became a reimbursable commodity – as medication managers. And there was a lucrative source of grant funds flowing from PHARMA 's good fortune into the embattled academic departments. Research in neuro-anything flourished, and the Clinical Research Industry grew like a weed with academic guest-authorship. The other mental health professions prospered – providing psychotherapy services with negotiated medical payment.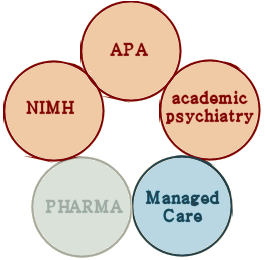 But now it's the dry season again. PHARMA finally exited the picture three years ago, and the impact of its absence on the economy of academic psychiatry is obviously widely felt. The APA's recent failed DSM-5 enterprise also did little for the current state of the specialty. There has been more than a quarter-century-long alliance among academic psychiatry departments, the APA, the NIMH, and the pharmaceutical industry. The practice of psychiatry has come to be centered on outpatient medication management, and many patients have been "left behind." Add in countless examples of scientific misbehavior and misrepresented authorship in the Clinical Trial literature, particularly with these psychoactive drugs. So while the controversies and some of the players may be similar, this is not the same psychiatry that faced that dry season in the 1970s.
It's the comments in the penultimate paragraph of this essay that actually caught my attention…
Also, many in the pharmaceutical and biotechnology industries have shifted from clinical neuroscience research to lower-risk areas with more well-developed genetic targets such as oncology. The net result is that clinical research in departments of psychiatry is systemically challenged. The greatest impact of this change in industry funding is, of course, on patients and families. We are deeply in need of new pharmacotherapies and neurotherapeutics based on specific genetic and neuroscience processes. Highly specific treatments, as the physician and noted author Lewis Thomas reminded us, are not only more effective but generally less toxic. These changes in industry funding, when paired with reductions in the true dollar amount of NIH funding, impact the success and potentially the longer-term viability of academic psychiatry departments. All of this is challenging for the field at what should be a time of enormous promise…
"We are deeply in need of new pharmacotherapies and neurotherapeutics based on specific genetic and neuroscience processes".

It's in the area of Major Depressive Disorders that the notion of "pharmacotherapies and neurotherapeutics based on specific genetic and neuroscience processes" have been most vigorously pursued. Yet:

There is no compelling or replicated evidence that what has been called "Major Depressive Disorders" since the DSM-III Revision is a discrete biological or even

clinical

condition, much less a disorder with either unitary genetic or neuroscientific roots.

There is no compelling or replicated evidence that the current psychoactive drugs are disease or disorder specific.

For these reasons, the NIMH has abandoned the DSM-system altogether and is now chasing other rainbows [the

RDoC

].

Studies claiming treatment specificity based on biological markers remain in the range of speculation in spite of intense and expensive efforts otherwise.

This is the almost ubiquitous future-think – always looking for something just around the corner or down the pike, things that never seem to arrive.

"These changes in industry funding, when paired with reductions in the true dollar amount of NIH funding, impact the success and potentially the longer-term viability of academic psychiatry departments."

While the extent of the industry support of academic psychiatry departments has been widely known about for some time, here, Dr. Summergrad implies that their very "longer-termed viability" has depended on that industry support. He's not talking about gravy, or even dessert, he's talking about meat and potatoes here – basic sustenance. Thinking back, there was no way that the academic department I was a member of in the late 1970s could've survived long term once the government and private hospital support began to dry up. There is essentially no university institutional support or service derived income for post-graduate psychiatric education like there is in other medical specialties.
There are certainly lots of things that suggest that there's more than a spiritual tie to PHARMA among academic psychiatry departments and the APA. It's been more like Superglue, or maybe a Joint Account.
When the scientific and financial misbehavior of ranking members of the APA or academic psychiatry have been exposed, we haven't heard a peep out of the APA or, for that matter, the NIMH. Why not?

The NIMH under Stephen Hyman and Tom Insel have preferentially funded and supported innumerable large scale psychopharmacology trials.Why?

When it became apparent that PHARMA was abandoning CNS drug development, there was a collective wail heard from every rafter, followed by an all out [and ongoing] campaign to woo them back. Why so loud? so passionate?

The number of highly placed academics who have been willing to sign on to shaky industry funded clinical trials or industry speaker bureaus is

shocking

surprising

. Why so many?
I think that I've been naive all along, quantitatively blind. We all know that PHARMA has been throwing money at academic psychiatrists and their departments since early on in this age of psychopharmacology, but I think I saw it as something like supplemental income, Before I read the phrase, "the longer-term viability of academic psychiatry departments," it hadn't really occurred to me that the PHARMA money was the vital artery supporting the body of psychiatric education. The conflict of interest implications of an academic psychiatry that is dependent on industry funding for survival are obvious to anyone that looks – mind boggling.
I don't mean to malign Dr. Summergrad in discussing his comments. I appreciate his candor and his commitment to education. He is both a Department Chairman [Tufts] and the President of the American Psychiatric Association, and he's speaking from experience about a problem that is fundamental and has to be addressed – financing the academic psychiatry programs that teach medical students and residents in psychiatry. It was a front-burner problem in the 1970s when I was a part of it and experienced it first hand. And it's apparently a big problem now. In the interim, it appears that the income from industry flowing in by various routes has kept the wolf away from the door. Unlike the way things work in most academic settings, in the clinical part of medical education, almost no one gets paid just to teach – no ivory tower. Except for a few administrators, the full-time faculty have clinical jobs [and also teach]. There are also huge volunteer physician faculties who teach for no pay except an academic credential [clinical faculty], a parking sticker, a library card, and maybe free access to the school gym. But there are still plenty of expenses, and the residents have to be paid. Grants may fund research but they don't fund the necessary infrastructure.
I wish I could say something positive to industry for their generous support of medical education. Unfortunately, such lofty motives don't come close to describing how all of this went down. It would be more accurate to say that PHARMA bought themselves a tract of academic psychiatry real estate, and parlayed it into an extremely profitable investment by hook or crook. Rather than lament PHARMA moving on, we would do better to celebrate the exodus and lock the door behind them – even though it leaves organized and academic psychiatry with a huge, currently unsolved problem. Perhaps we can find a less destructive solution this time around…