Posted on

Friday 3 June 2016
by L M Williams, C Debattista, A-M Duchemin, A F Schatzberg and C B Nemeroff

Translational Psychiatry. (2016) 6, e799. Published online 3 May 2016

Discussion
Overall, the higher rate of trauma observed in the present MDD sample is in line with registry and observational studies.Thus, childhood trauma and especially abuse may contribute to the development of depression observed in routine practice in multiple outpatient settings spanning primary and specialist care settings. Our findings suggest that abuse in particular, and not overall exposure to traumatic events, predicts a lower rate of acute response and remission after antidepressant therapy. Sexual, physical and emotional abuse compared with other types of trauma psuch as death of a parent/sibling, personal life-threatening illness/injury, or disaster], may have a specific impact on the neurobiological mechanisms of non-response to treatment. Neuroimaging studies suggest that there may be a differential effect of childhood sexual abuse on the subsequent functioning of emotional brain circuits in adulthood depression. Childhood abuse has also been associated with a greater sensitivity to stress, cognitive impairment, alterations in brain morphometry and immune and metabolic abnormalities that may impact the course of depression and capacity to respond to antidepressants. It is also possible that abuse may recur and that it is the recurrence of the trauma that produces poor treatment outcomes.

In addition to the type of stressor, our results suggest that there is a critical period [4 to 7 years] in which childhood trauma occurs and has the most significant impact on subsequent poor response to antidepressants in adulthood. There is a rapidly growing body of work to suggest that gene polymorphisms and epigenetic modifications interact with childhood trauma to exert their effect on risk for depression, and that this effect is greatest at critical neurodevelopmental periods. This evidence is consistent with the view that the extent of brain plasticity varies during development, such that trauma occurring during critical neurodevelopmental periods may alter brain morphometry, circuit function, endocrine regulation, immune function and subsequent physiologic reactions to stress in an enduring way.

Abuse occurring at age 4 to 7 years was associated with significantly poorer outcomes following the treatment with sertraline compared with the other selective serotonin-reuptake inhibitor escitalopram and the SNRI venlafaxine-XR. The participants who were abused at this age showed significantly less improvement in both clinician and self-rated symptoms following 8 weeks treatment with sertraline. Sertraline, in contrast to other serotonin-reuptake antidepressants, has an additional relatively specific effect on inhibiting dopamine. There is some evidence that subgroups of patients are also characterized by dopamine circuit dysfunction and number of traumatic events has been associated with higher ventral striatal dopamine response to amphetamine. Although speculative, these lines of evidence suggest that a possible dopamine-related mechanism might contribute to our specific observation of especially poor outcomes following sertraline in those exposed to early abuse.

Clinical translational significance
Here, we provide evidence from a well-powered study that outpatients with MDD have a fourfold higher incidence of childhood abuse than their healthy peers, and a twofold higher incidence of early exposure to other traumatic events. The greater the exposure to trauma, the less likely these depressed patients were to remit following antidepressant response. Thus, the translational significance of these findings is that in routine clinical management of depression it may be important to screen for childhood trauma to identify those patients that may not benefit from standard first-line antidepressants and may require additional therapy to more directly address the impact of trauma.
This was surprisingly difficult for me to read, particularly coming from Dr. Nemeroff. It just brings up too much to pretend objectivity. It's hard for me to hear this as some big discovery because it's something we were teaching in the Department Dr. Nemeroff took over before he arrived twenty-five years ago. Their findings were clear – depressed adults who had a history of physical or sexual abuse between the ages of four and seven were unresponsive to treatment with the usual symptomatic medications like antidepressants.
This is one of my slides from the late 70s/early 80s showing a few lines of development plotted by age. The pictures are typical self portraits from various ages [some from my daughter] paralleling the formation of the self representation. The bottom line shows attachment/separation schema [Mahler] and the stages of cognitive development [Piaget].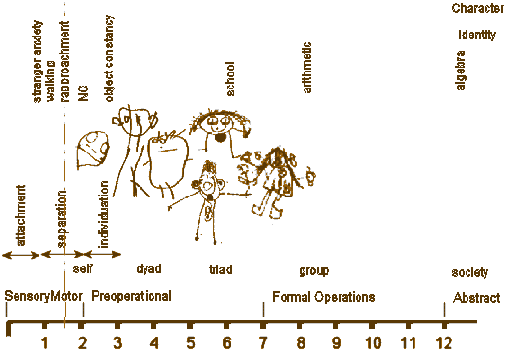 The four year old sees himself "out of his eyes" with the arms and legs coming out of the head [Mr. Potato-head]. It's not until around age seven that the child will see herself as we see her, a whole person. In-between, Mr. Potato-head gets some hair, and has some "felt" body parts [here, a heart or genitals]. It's a vulnerable work-in-progress period, and abuse can disrupt multiple vital developmental processes. Logical constructs aren't available in the preoperational cognitive set so the child has no tools to understand abuse. It can and does have a profound impact on the developing self image, the templates for relating to others, and the general experience and understanding of the world. Whether these unfolding developmental sequences and the toll of abuse are the result of or cause actual changes in the brain itself or take place in a psychological domain is as unknown now as it was forty years ago. But the particular vulnerabilities of the preschool child and the enduring consequences remain a paramount concern whether hardware or software. And by the way, their finding highlights the inadequacy of the Major Depressive Disorder categorical diagnosis.
Translational message? Take a history!…