Posted on

Thursday 23 October 2014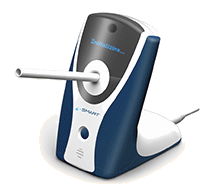 Well, the Clinical Trial Cops look to be getting
Smart®
-er [and you've just got to admire yankee ingenuity].
Smart®
is a device that takes the "non" out of non-compliance. Your study medicine has a little additive. So you take your pill and push a button, and after 20-30 minutes, it alerts you to blow into the machine. The additive has by then been absorbed and can be detected in your expired breath. If it's there when you blow, this little machine takes a digital photo and sends it to an online database for facial recognition software to authenticate that the real subject took the pill. Check it out [
how it works
]! And the company [
Xhale
] has big plans for use beyond just Clinical Trials as you might imagine. How did I find this peculiar little piece of equipment? Creative use of the
Physician Payments Sunshine Act Database
. I just looked up a KOL [
Alan Schatzberg
] and found what he's investing in. Voila` –
Xhale
!
---
Oh yeah, Waiting to Xhale:
SMART® products have not been cleared for sale or use within the United States. The company is neither soliciting nor accepting any orders for the products. All benefits and claims made are concerning future generations of the product line, which are still under development.