If we want things to stay as they are, things will have to change.
Prince Don Fabrizio Salina in Lampedusa's The Leopard
… "All publicly funded pharma research," he said, as though correcting a mistake in elementary arithmetic. "If the public pays for it, they should see it, but if pharmaceutical companies want to pay for their own research, well …"

I knew where he was coming from. One of the strongest arguments for public access in scholarly and scientific publication is the "public debt" argument: if the public pays you to do research, the research should belong to the public. That's a good argument, but it's not the whole story. For one thing, it's vulnerable to the "public-private partnership" counterargument, which goes, "Ah, yes, but why not ensure that the public gets a maximum dividend on its spending by charging lots of money for access to publicly funded research and returning the profit to the research sector?" I think this argument is rubbish, as do most economists who have studied the question…

That's why Goldacre's work is important to this discussion. The reason pharma companies should be required to publish their results isn't that they've received a public subsidy for the research. Rather, it is because they are asking for a governmental certification saying that their products are fit for consumption, and they are asking for regulatory space to allow doctors to write prescriptions for those products. We need them to disclose their research – even if doing so undermines their profits – because without that research, we can't know if their products are fit for use…

And that's why big pharma needs to show its work: because regardless of their bottom line, their products mustn't be allowed into the market without such a showing. It's important to get publicly funded work into the public's hands, but that's where the open access story starts, not where it ends.
In August I wrote "
the only reason I can think of for keeping the raw data from clinical trials secret is to make distortion possible…
as if that were some great discovery [
to make distortion possible…
]. I wrote it after I ran across the raw data for Paxil Study 329 and realized how easy it was to see all the distortions that had previously been intuited by some really smart people after some hard sleuthing, and I got to thinking about why such data was secret in the first place. It hit me like a ton of bricks that the
only
force behind that convention was to give the drug manufacturer the latitude to to doll up [distort] the conclusions. Why I didn't think of that earlier is an enigma to me. It's so obvious. I guess conventions like that must have inertia – like slavery, or segregation, or derivative trading, or wealth inequity, or rolling stones. You get used to it and forget to ask the questions that matter.
There's a successful movement in the computer world – Open Source. It means when you purchase a piece of software, you get the code too. You can alter it if you want. The Linux operating system is Open Source, and provides the kernal for lots of things – like Android, or the Apache Server that sent you the page your reading right now. If you're using the FireFox Browser like I am, you're using Open Source. The only reason I'm on a Windows computer is that I do a lot of GIS [mapping] and the mapping software isn't available for Linux. I guess the other reason is that the graphics programs for Linux are hard to use. Why use Open Source? A lot of it is free, but that's not why I use it whenever I can. I use it because it's right. Even though I have only modified a few programs myself, if I wanted to look at the code, I could. It's just an honesty thing.
The data from Clinical Trials is the same way. Very few people either care to or have the expertise to review the Data and mathematical transformations involved, but there are some that can – and that keeps people honest. All we can do with the published studies is check what we can see. Sometimes we can find things, as in this table from the Gibbons papers about antidepressants that is riddled with errors: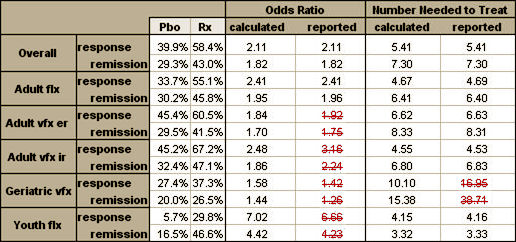 But with the open access, we can vet the raw data in Paxil Study 329 [showing its non-significance] using only an Excel Spreadsheet:

or see that the reason they changed the primary outcome variable was to capitalize on an outlier value [circled] that really didn't characterize the data:

or look at the suicidality data and see the true story:
And if an old non-biological psychiatrist can see this much, imagine what a trained neuroscientist or statistician can see. Not many people will crunch someone else's numbers, but some will, and that's a powerful force.
Make no mistake, Open Access to Clinical Trial raw data will have a negative impact on the Clinical Trial Industry and severely restrict the Psychotropic Drug industry. It will mean that there will be a whole lot fewer drugs on the market and it will radically alter the life styles of the Key Opinion Leaders that have thrived for twenty-five years on the bonanza. The crisis of financing psychiatry departments we had in the 1970s will return. The managed care mavens who have supported drug treatment as cost effective alternative will balk. And so the inertia of data secrecy isn't just supported by habit or tradition or even some natural force like gravity. It's actively maintained because it has been so incredibly lucrative to a whole lot of people. Changing direction is going to be a hard task.
But as bad a rap as neuropsychopharmacology and neuroscience have gotten in the recent era, these are important areas of science that have been badly damaged by industrial pollution and the corruption of many of the scientists involved. Open Access will go a long way towards getting our real scientists back to the forefront. It's time for a change, and Open Access is the change we need to make…