In case it's not apparent in these last two posts [
sleep on it…
,
we're all out of drugs…
], I've had a change of heart. I'll admit that my earlier interpretation of PHARMA pulling out of CNS Drug Development was that they were taking so many hits in the courtroom that they decided to throw in the towel. That may or may not be, but I now think even if it's a factor, it's an aside. On center stage is the main problem, well expressed by Dr. Fibiger:
An Editorial

by H. Christian Fibiger

Schizophrenia Bulletin. 2012 38[4]:649–650.

Psychopharmacology is in crisis. The data are in, and it is clear that a massive experiment has failed: despite decades of research and billions of dollars invested, not a single mechanistically novel drug has reached the psychiatric market in more than 30 years. Indeed, despite enormous effort, the field has not been able to escape the "me too/me [questionably] better" straightjacket. In recent years, the appreciation of this reality has had profound consequences for innovation in psychopharmacology because nearly every major pharmaceutical company has either reduced greatly or abandoned research and development of mechanistically novel psychiatric drugs. This decision is understandable because pharmaceutical and biotechnology executives see less risky opportunities in other therapeutic areas, cancer and immunology being the current pipeline favorites. Indeed, in retrospect, one can wonder why it took so long for industry to abandon psychiatry therapeutics. So how did we get here and more importantly, what do we need to do to find a way forward?…
Here's that graph again [for the third post in a row]: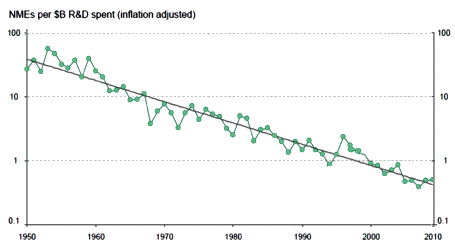 Click the graphic for the article
Note: Recall that this graph is corrected for inflation and that it's all drugs [New Drug Entities] not just psychiatric drugs.
I wrote "an honest assessment of the current era" when I read Dr. Fibiger's article in 2012 and "a wise voice" when I reread it this week. I want to clarify that it's that paragraph up there [minus the last sentence] that I was talking about. In what follows, he gets into "find a way forward" too quickly when what we need to figure out is "how did we get here." In my opinion, his problem with sustained wisdom is in "more importantly," revealing that you can take the boy out of industry but you can't take the industry out of the boy may be an operative principle clouding his subsequent wisdom. What's important to me [and us] is where in the hell have we been?
As much as I'm obviously in love with that graph, there's something important that it doesn't show – Clinical Trials. Clinical Trials proving efficacy [lite] were added to the mix in 1962 as a reform measure – including efficacy with safety in the FDA's task list for approval of a drug. The Clinical Trial Industry blossomed later – 1980s? While there are many things one can say about that change, the one I'm focused on right now is the ability of a Clinical Trial to detect much smaller differences – even clinically insignificant differences. We don't need Clinical Trials for Morphine [antiquity] or Penicillin [1928] or Thorazine [1950] or Valium [1960]. They obviously have strong effects – no statistics required. But for many medications, the math is necessary.
Finally, a personal observation of my own. The pharmaceutical industry in the 1960s and early 1970s that I met as a young Internist and the contemporary pharmaceutical industry I now write about seem like different species to me. I've never been personally much involved with industry, but from my perspective, the deceitful practices I write about here were not there at an earlier time. And in the interim, I was in a situation where I had little interest or contact, so I can't really comment on the process of change. I can only say that the change seems striking to me.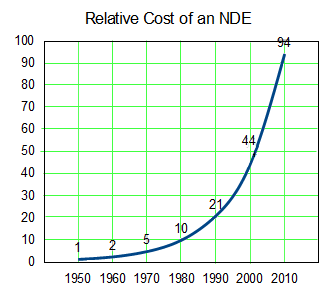 This is the trend line from the top graph expressed in a different way. To get an NDE to take to market costs me 94 times as much in contemporary dollars in 2010 as it cost me in 1950. And that 2010 NDE is backed only by statistical evidence from a Clinical Trial rather than evidence that can be seen from across the room as in 1950 – so my lackluster 2010 drug that it costs me 94 times as much to get hold of is up against a robust 1950 drug [and, by the way, they're not nearly so many of those NDEs around any more – except maybe out of reach in the top of the tree].
THIS IS A TEST:
Assuming the validity of my observation that the pharmaceutical industry had undergone a "dramatic" change in my medical lifetime [50 years], is there anything in this post that might explain why that happened?
Disclaimer: Please note that I said explain, not justify.